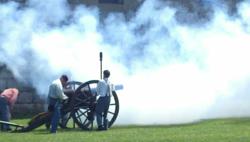 If you are looking for things to do in Newport, this is a fantastic experience
Newport, Rhode Island (PRWEB) July 09, 2012
The Civil War Living History Weekend kicks off Saturday July 14th and continues Sunday July 15th at beautiful Fort Adams. Two days of action and events bring the sights and sounds of the Civil War to Newport.
Events begin at 10AM on both days and include re-enactors simulating dramatic assaults on Fort Adams as well as recreating the daily life of soldiers and civilians during the 1860s. Throughout the day soldiers and civilians in authentic 19th century uniforms and dress will invite the public to spend a day in their life, and to learn about everything from military tactics to cooking and family life during the Civil War.
Reenactors from all over New England and beyond will be in attendance, representing soldiers from the Union and the Confederacy as well as a "Unity Village" of civilian reenactors from both sides. Fort Adams Trust Director of Marketing and the Visitor Experience Robert McCormack, noted, "Our Civil War Living Hitory Weekend is a chance for families to truly immerse themselves into a place and time crucial to our country's history and interact with historical figures. If you are looking for things to do in Newport, this is a fantastic experience."
The two day schedule is filled with battles, artillery and troop drills, dress parades, medical and surgical demonstrations, lectures, historic displays, and camp life. According to McCormack, "You will literally be traveling back in time. You can spend as long as you like amongst the re-enactors, asking them questions, observing exercises and demonstrations. You will experience the Union and Confederate camps where soldiers relax after battle as well as the headquarters where they strategize about the day's actions. While at the event, kids are encouraged to participate in a historical Scavenger Hunt for an opportunity to win daily prizes."
The Fort Adams Civil War Living History Weekend is hosted by the Fort Adams Trust with support from the New England Brigade, the Liberty Greys and the Rhode Island Department of Environmental Management. Admission to the Encampment is $10 for adults and $5 for children 6-17. Family admission (two adults and up to 4 children) is $25. For those wishing to attend both days of the Encampment to see all the activities, a special half price readmission for Sunday is available. Guided tours of the Fort's underground listening tunnels will be running every half hour from 10am-4pm both days at a rate of $2 for youths and $4 for adults. Water shuttles from downtown and ample parking is available at Fort Adams State Park.
Historic Fort Adams is operated by the Fort Adams Trust, whose mission is to direct and support the stabilization, restoration, maintenance and operation of Fort Adams as a public historic site. Proceeds from the Civil War Weekend will benefit the preservation of Historic Fort Adams.
Fort Adams is located in Fort Adams State Park on Harrison Avenue in Newport, Rhode Island.