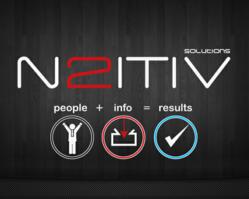 The key to success is to understand your business's unique and authentic sense of self.
New York, NY (PRWEB) July 10, 2012
Serial entrepreneurs MJ Gottlieb and Gary O'Neil are amongst the latest to move onto the online market. N2ITIV SOLUTIONS is Gottlieb and O'Neil's first combined online venture. N2ITIV SOLUTIONS shares how now is the greatest time for entrepreneurs to create opportunities for themselves when they aren't getting it anywhere else. The website shows individuals and companies how to develop their own platform and utilize social media to promote, market and monetize their products or services online.
Gottlieb and O'Neil's partnership dates back 21 years to the launch of their first business during college. The move online may be obvious to those already operating within the online environment; however, they are focused on the success N2ITIV SOLUTIONS will bring to others. The launch of N2ITIV SOLUTIONS is driven by a mission for people to stop waiting for others to believe in them and start taking stock to believe in themselves. The duo use their website to focus on four points:
1. For those individuals who are not getting hired by the outside world, it's time for people to start "hiring themselves." MJ and Gary also discuss why now is the best time to do it.
2. For those who are not getting the opportunity to showcase their knowledge, talent or skills, N2ITIV SOLUTIONS shows them how to be pro-active and create the opportunity.
3. In times like now when people aren't putting too much faith in others, it all needs to start with people putting faith and belief in themselves.
4. Individuals can have the greatest product, talent or skill in the world, but if those individuals don't believe in themselves and what they are doing, no one will believe in them causing that product or skill to never see the light of day.
Gottlieb adds, "So many people I have spoken to who have lost their jobs act as if they have lost their skills, talents and knowledge as well. It's as if all of that went down the drain with their employment status. The first thing people need to do is realize that they have the same skill, talent and knowledge they had when they were gainfully employed. With the power of the online platform, people have no excuses to sit and wait for an opportunity to present itself (namely a job) when they can create the opportunity themselves. Historically, recessions have always been the greatest opportunity for entrepreneurship."
N2ITIV SOLUTIONS is not just another website regurgitating the same repetitive online information loaded on so many sites. The philosophy behind N2ITIV Solutions starts with the understanding that taking one's talent, knowledge and/or skill online is not enough. Implementing that talent, knowledge or skill needs to be done far more strategically if people want their talent or skills to stand out from their competitors.
Gottlieb says, "Every piece of content we come out with at N2ITIV SOLUTIONS tries to offer a strategic solution. People need solutions first, not products. We have been showing people and companies how to leverage their brands for a long time. Before it was offline, now its online. The only major difference I've noticed is doing it online is easier since our power of outreach and the amount of eyeballs online is truly extraordinary, especially with what's going on with social media. You just need to know how to do it right and stay away from the spammers and scammers trying to sell you a pipe dream."
O'Neil points out, "While starting a business online has the tremendous advantage of having virtually zero start-up costs, this is also a concern because that has resulted in a lot of people entering the market. The key to success is to understand your business's unique and authentic sense of self. Once you have defined that sense of self and your purpose, that is the first step to elevate you above the fray."
O'Neil uses N2ITIV SOLUTIONS to share other key components to developing a successful online venture. Having a business narrative will decide whether people will be engaged in the content. Business stories and content have to be inspiring as well as solutions driven. N2ITIV SOLUTIONS shares how to make a product stand out, and the importance of providing a call to action. O'Neil adds, "A call to action shows your audience that you care. You're asking them to do something that they have not done for themselves. Business must consistently do this to increase sales and engagement. Another key thing to remember is that with a lot of businesses it's not always about being under-capitalized, it's about pushing resources in places that will actually make a difference and propel the business forward."
N2ITIV SOLUTIONS provides people with not only information, but strategy to implement that information. As Gottlieb puts, "Information without putting it to use is, well, useless, so a strategy is needed so our clients can go out and start taking action immediately."
N2ITIV SOLUTIONS is a strategic consulting firm specializing in the implementation of creative business strategies to help aspiring entrepreneurs and small businesses increase their brand awareness and monetize their businesses online. For more information please contact us at http://www.n2itivsolutions.com