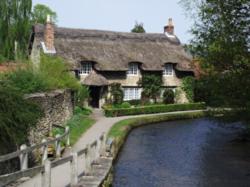 (Bryant) continues to scour North Atlanta locations to be sure he has the best possible location for his dream resort concept.
Atlanta, GA (PRWEB) July 11, 2012
The legend of Balmoral Estate, Scottish home of the British Royal Family since 1848, is about to come alive in Atlanta, Georgia complete with high tea, haggis and single malt scotch, around-the-clock English butlers, a Scottish bagpiper at sunset, and gillies to tend the trout-stocked lake.
The idyllic estate in the shadow of Scotland's Lochnagar Mountain along with Pennyhill Park, an upscale destination resort in Bagshot, England, and Savannah's Ballastone Inn are the inspiration behind the 50-rooms and suites of Balmoral Court Hotel and Spa, according to developer and operator Tarby Bryant of the Sweetwater Hospitality Group.
The intimate north Atlanta-area facility will feature a core hotel building surrounded by ten thatched roof English cottages, each with its own 24/7 English butler, five large bedrooms and elegant baths, and a butler's pantry. Behind each cottage will be an English botanical garden, while a shepherd and Blackie the border collie will guide a herd of South African Dorper sheep over the hotel's rolling, grassy acreage. Balmoral Court room rates are expected to range from $275 to $500 per night.
As of July 10, five sites were under consideration in three Georgia counties: Pickens, Cherokee and North Fulton.
According to Bryant, the $30 million boutique resort will be open by mid-2013 situated on up to 125 acres in North Atlanta adjacent to a 15-25 acre lake and an 18-hole golf course. The main hotel core building will include reception, two formal parlors , a library, three meeting rooms for up to 60 corporate guests, a world class, 60-seat, dinner-only five-star restaurant and a luxury 10,000 sq. ft. spa.
Bryant has partnered with Hardin Construction Company and Advent Construction Management who will employ up to 400 tradesmen during construction. Balmoral Court will operate with 80 highly trained full- and part-time staff. Architectural design of the unique facility has begun by Rabun Architects of Atlanta. PKF Consulting will be engaged for market and feasibility work. Although Bryant has narrowed his search for what he considers the perfect site, he continues to scour North Atlanta locations to be sure he has the best possible location for his dream resort concept.
As unique as the destination resort will be, so will be its financing, according to Bryant who is offering ownership and leaseback of the ten English cottages. Ownership of each of the ten Balmoral Court cottages is being offered to private investors at $1.5 million each. The hotel will lease back each cottage for $150,000 per year and will pay all upkeep and maintenance, utilities, taxes, insurance and replacement of furniture, fixtures and equipment, as needed, to maintain five-star resort standards.
About Tarby Bryant
Bryant is former CEO of the Atlanta Economic Development Corporation. He is a founder of and currently operates The Gathering of Angels, an Atlanta-based angel-investment organization that helps find capital for seed and early stage companies. His career includes having served as developer, CEO or Managing General Partner of eight luxury hotels including a Hyatt Regency, two Hiltons, and a Stouffers. Bryant was the merchant banker on the Four Seasons Atlanta Hotel. He managed the restoration of Savannah's exclusive Ballastone Inn in 1980 and operated it until 1986. It continues today as one of Georgia's premier boutique hospitality facilities. More information about Tarby Bryant is at http://gatheringofangels.com/tarby.html.