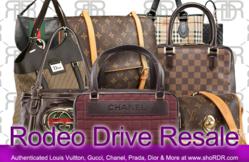 Make friends with the sales people… It's the best way to get the best items. When Chanel bags come in, there are going to be dozens of clients that want it. Remaining a loyal, repeat client will put you at the top of the list.
Houston, TX (PRWEB) July 11, 2012
As seasons change and new styles come and go, budget-conscious lovers of luxury brands walk the line between high end fashions and wallet-friendly purchasing decisions. Frequent shoppers may burn through the sales rack of their favorite department store during discount season, but according to Rodeo Drive Resale co-founder and style expert Raya Jaffer, there are treasures to be found year round for shoppers willing to visit a consignment store. Today, Raya gives the rundown on consignment stores and the many ways that even the most inexperienced consignment shopper can walk out a winner.
1) Get To Know The Staff – Many consignment stores now offer the option of joining a mailing list, which can be an effective way to stay abreast of new shipments and in-store specials. In addition, building a casual but friendly relationship with the store's staff can do wonders. "Make friends with the sales people," Raya advises. "It's the best way to get the best items. When Chanel bags come in, there are going to be dozens of clients that want it. Remaining a loyal, repeat client will put you at the top of the list."
2) Try Shopping Online - At Rodeo Drive Resale, buyers can shop online for brands such as St. John Knits, Prada, Jimmy Choo and more. Depending on the popularity of the site, sellers may range from individual clients, high profile celebrities or even actual boutiques, and unlike other thrift stores, consignment stores are a bit more discriminating in items they accept. "Thrift store shopping usually consists of donated goods whereas consignment shopping is usually designer or high quality goods that retain a better resale value."
3) Be Adventurous – Because of the discounts that come with shopping consignment, it is also an excellent opportunity to buy that colorful dress, brazen top or any other catchy piece outside your usual repertoire. While most people stick to what they have been buying for years when purchasing expensive clothing and accessories, finding a deal on an item that is a bit out of your comfort zone is a great way to discover a whole new look without breaking the bank.
4) Prepare For The Hunt – Finding that vintage, one-of-a-kind piece takes patience, Raya says: "Go with plenty of time to look. Unlike a regular retail store that may have a handful of styles in multiple sizes, a consignment store is going to have multiple styles but a smaller selection of sizes. You will need time to browse hundreds, or sometimes thousands, of individual items. Shopping online consignment is a bit easier especially with a site like shopRDR.com, which has the capability to narrow items down according to size, style, color and price range."
Consignment shopping is an affordable and adventurous way to grab hold of incredible deals on many of the most popular brands in designer fashion. Take the time to visit a consignment store, whether in person or online, and discover all the fashion treasures that await.
ABOUT RODEO DRIVE RESALE
With over a decade of experience, Rodeo Drive Resale specializes in buying, selling, and consignment of authentic couture fashions. Buy, sell or consign favorite luxury designers such as Louis Vuitton, Chanel, Prada, Gucci, St. John Knits, David Yurman, Christian Louboutin, Tiffany & Co. and more. All items are Guaranteed 100% authentic. Visit RDR online at http://www.shoprdr.com or call toll free at (888)697-3725.