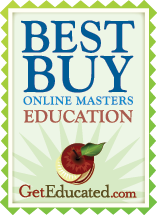 Educators concerned about college affordability can access Get Educated's "Best Buy" ranking list of the 114 most affordable online education degrees
Burlington, VT (PRWEB) July 26, 2012
GetEducated.com, an online education research company, has published their lists of the best online colleges for consumers if online education affordability is a top concern.
Get Educated surveyed higher education tuition costs and distance learning fees at 129 online education colleges offering a total of 367 online masters degrees. The cost data revealed the 114 factual "Best Buys" among online education degrees.
$16,731 is the average cost for a master's degree in the online education survey. Lamar University (TX) ranks as the #1 online education college for affordable masters. Lamar, a public university, charges Texans only about $6,450 for an online education master's. Another public university, The University of Wyoming Outreach (WY), offers the most affordable online masters degrees for in-state and out-of-state educators with a cost of about $7,000 per degree.
The Get Educated Best Buy lists identify which colleges offer the most affordable degrees in an online education format. Consumers can access the lists for free to compare the cost of online degrees at traditional colleges as well as 100% online schools.
"The College Affordability and Transparency Center operated by the government publishes invaluable data on college costs," explains, Vicky Phillips, founder of Get Educated, "but CATC data is only on full-time, first year freshman who are attending residential bachelor degree programs. The Get Educated college affordability lists are specific to degrees offered through online education, which often have a very different cost structure than their residential counterparts."
Consumers can review, rate and compare all their accredited online education options by cost, reputation, and student reviews by using the free degree comparison tools at GetEducated.com.