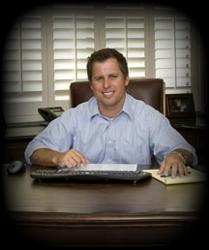 "I am extremely honored to receive recognition from our local business leaders and the building industry," says Burton.
Melbourne, FL (PRWEB) July 11, 2012
Christopher Burton Luxury Homes, a leader in the Melbourne, Fl., luxury home market, is proud to announce the recognition of President Christopher Burton in two professional publications.
National building industry magazine Professional Builder recognized Burton in its annual "40 Under 40" class, published in the March 2012 issue. Selected by the editors, the 40 winners from around the country "represent the next generation of leadership and innovation in home building, and they're all under the age of 40," writes David Barista and Jeff Zagoudis. The article describes the winners' accomplishments, extracurricular activities, and "off the clock" hobbies and interests.
Spacecoast Business, an award-winning monthly magazine promoting the best of business in Brevard County, Florida, placed Burton on its annual "100 Most Admired Businesspeople" list in the April 2012 issue. Led by Publisher Josh Field, a Board of Peers including approximately 15 influential community business leaders narrowed down 283 names through a six-month process of elimination. Burton's 100% voter approval is a testament to his character and his positive perception in the community. Published by SCB Marketing, Spacecoast Business and its sister magazine, Spacecoast Living, are nationally recognized and combine for a reach of more than 200,000 readers across the region.
"I am extremely honored to receive recognition from our local business leaders and the building industry," says Burton. "With this support, we will continue to serve our community by upholding exceptional standards of excellence throughout everything we do."
View the articles online:
Spacecoast Business, SpacecoastBusiness.com
Professional Builder, HousingZone.com/ProfessionalBuilder
About Christopher Burton Luxury Homes:
Since he started the company in 1998, President Chris Burton set out with a passion for excellence and resolute determination to build the best luxury homes possible. He has since led the company to its current luxury market dominance. As his employees and subcontractors can say, his secret is showing loyalty and respect to his team while maintaining a low tolerance for quality compromise. Christopher Burton Luxury Homes customers purchase their new home with confidence that their warranty and service has Chris Burton's reputation standing squarely behind it — when you buy a Christopher Burton Luxury Home, you get Christopher Burton! We build homes for life, but relationships for a lifetime. For more information, please visit http://www.BurtonHomes.com or call 321-757-3247.