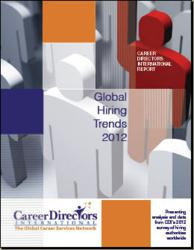 Job seekers should always pay special attention to selling themselves in the resume with the right mix of key word competencies, unique selling propositions, and experience challenges, actions, and results stories to stand out and land the interview.
Melbourne, Florida (PRWEB) July 11, 2012
Career Directors International (CDI) set out to identify what hiring authorities, such as recruiters and human resource professionals, prefer from job seekers in their resume writing and online job search profiles with their 2012 Global Hiring Trends Survey.
The results were eye-opening and value-added for both professional resume writers as well as job seekers who want to tackle writing their own resumes:
1. The One Page Resume is No Longer King – It's More About the Value.
Certainly, if entry-level job seekers can sell their key competencies, unique selling propositions, experience, and accomplishments in one page, they shouldn't stretch it just to hit two pages.
However, the survey found that just 21% of respondents preferred a one-page for the average job seeker and just six (6%) wanted only one page for the executive job seeker.
The survey found that over 54% of respondents would read a resume, regardless of length, if it was well-written and highly focused on the targeted position.
Further, rich detail and supplemental documents were in demand from other responses to questions in the survey. For example:
43% of respondents preferred a resume summary, sometimes called the profile or unique selling proposition, that was longer and more detailed to spell out the job seeker's unique selling points.
The standard 3-line long summary was only preferred 18% of the time.
Also, 41% of respondents would definitely consider a functionally styled resume with a timeline vs. a traditional chronological resume, if it helped to better show the value of the job seeker.
An additional 31% might consider a functional resume, which shows that the times have changed where hiring authorities are seeking more than just a timeline outline to understand a job seeker's value.
2. Resumes that are Emailed Need to be Smart.
By smart, CDI means enabled for smart phones or PDA friendliness.
While a seemingly small number, 16% of hiring authorities who responded are using their smart phone s to review incoming resumes.
If a job seeker is emailing their resume, they should consider using a very brief but engaging introductory version of their cover letter in the email body, and saving the full cover letter and resume for an attachment.
3. QR Codes, Charts and Graphs, and Testimonial Quotes on a Resume Can Make a Job Seeker Stand Out.
While the respondent numbers for adoption of these techniques on resumes is low, that is in no way a discouragement for using them. In fact, job seekers and resume writers should recognize that in a sea of applicants, these strategies allow the candidate to stand out to a select audience who appreciates them.
For instance:
13% of respondents will always or sometimes scan a QR code found on a resume to learn more about the job seeker.
33% of respondents would consider a video-based resume or video addition to a resume.
24% of respondents either loved graphs and charts on resumes or at least found them sometimes helpful in evaluating a job seeker.
29% of respondents were influenced by testimonial quotes from references that were embedded in the resume.
In regard to the finding, CDI's President, Laura DeCarlo, states, "There is no one right way to write. However, job seekers should always pay special attention to selling themselves in the resume with the right mix of key word competencies, unique selling propositions, and experience challenges, actions, and results stories targeted to the job of interest. When done in a visually impactful and easy-to-read manner, these will always be the top keys to standing out to land the interview."
The complete findings of CDI's 2012 Global Hiring Trends Survey are available now for download.
Job seekers are invited to visit CDI's Job Seeker section of the website for free advice from the resume writers and career coaches within the association's membership.
About Career Directors International – http://www.careerdirectors.com
CDI is a global professional association committed to ensuring that career and resume professionals can grow and thrive in a rich, vibrant, exciting, and nurturing environment. CDI is focused on championing the industry's cause for credibility and visibility; fostering exceptional success in every generation of career and resume professionals; and cultivating the career superhero that exists within each one of us.