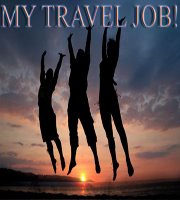 Start your Fun Travel Job with My Travel Job Today
Colorado (PRWEB) July 11, 2012
MyTravelJob.com, built for the adventurous soul, took over one year to complete in hopes to reach and recruit people who love to travel several months at a time while working fun, exciting jobs across the country! The main goal for MyTravelJob.com focuses on getting America back to work, while bringing together the most ambitious, enthusiastic individuals in the nation that are motivated about living life to the fullest.
MyTravelJob.com seeks the best sales people from around the country to distribute the world's most powerful and environmentally friendly all-purpose cleaning products—Pro-Tek Chemical and Eco-Orange are proud members of the National Field Selling Association (NFSA). Individuals will have the opportunity to have a fun travel job that will take them all over the country and to all major cities, including Los Angeles, Miami, New York City, Chicago and so many more!
Our fun travel jobs require that you are 18+ and able to start immediately—training, lodging and transportation to all destinations are provided. No experience is needed. These national chemical companies train people who love to travel how to demonstrate their environmentally safe products with a young, motivated and enthusiastic co-ed group.
Have you ever wanted to see fireworks explode in Las Vegas, surf the waves off the Hawaii's North Shore or even go deep-sea fishing in Alaska? MyTravelJob.com will get you there!
Maybe you're just out of college with a burning desire to see the country. MyTravelJob.com provides the ticket to travel, while also offering you the necessary skills to build your resume and get your career started. If you love meeting new people, engaging in interesting conversations and making people laugh from all walks of life, this is the travel job for you!
Perhaps you're a transitioning military member seeking a job for veterans. MyTravelJob.com can get you back into the work force via a supervisor or management position and take you anywhere you want to go.