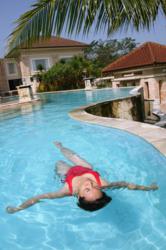 Covington, LA (PRWEB) July 10, 2012
As America's attention is now being focused on the importance of health and wellness, more adults are implementing a workout into their daily routine. During the summer when the days are longer, the last thing anyone wants to do is remain cooped up in a gym – especially if a workout follows a full day of work. It is important to take advantage of the outdoors and execute a workout – all while enjoying the nice weather and staying cool at the same time.
Most people see a swimming pool as a place to relax, unwind, play games, spend time with family and friends or just cool off, but a swimming pool is also a great place to get a workout. The average thirty minute workout burns approximately 300 calories. Pool workouts are also a great way to build up cardio endurance. Due to the buoyancy of water, there is less impact on the joints and muscles compared to other strength training. The water supports the body in every position and helps alleviate the feeling of fatigue. Pool workouts also are great stress relievers. The exercise stimulates the brain to release chemicals that make the body feel great. If performing pool exercises in warmer water, the movement of water against and over the body results in both massage and relaxation. And one of the best benefits of getting a workout in a pool is that unlike most other forms of exercise, no additional equipment (other than the swimming pool, of course!) is required!
In addition to being a great form of exercise for average adults, two specific sectors of the adult population will especially find swimming a great way to stay cool while getting in a great workout – pregnant women and older adults. Water exercise is safe for people with injuries and disabilities, as well as the elderly and pregnant women. Swimming pool exercise has a place in therapeutic treatment. It presents a very low risk of injury and may be possible in many cases when land-based exercise is not possible or is too uncomfortable. As with any exercise, a doctor should be consulted to be sure that one is fit and healthy enough for physical exercise. One should start slow and build up strength and stamina before a workout is increased.
A great pool workout does not only have to consist of swimming laps – it can be as simple as water squats, leg lifts or water walking/jogging. A swimming calorie calculator can be used to determine how many calories are burned during a workout. One is available at http://www.swimmingpool.com or on most smart phones as an application.
Swimming pool workouts are also great for children, as getting children to exercise is so important due to the childhood obesity rates on the rise over the past three decades. Children love to play in water and won't even realize they are getting a great workout at the same time. Basic pool toys such as pool noodles or simple beach balls keep kids moving, but it's important to remember that children should never swim alone without adult supervision. http://www.swimmingpool.com/fitness/kid-exercises Great pool exercises for children like whirlpool, croc wrestling and relay races can be found on http://www.swimmingpool.com.
Want the opportunity to improve fitness but don't yet have that backyard swimming pool? Be sure to enter The SwimmingPool.com New Pool Sweepstakes. One lucky homeowner will win a New or Remodeled Swimming Pool valued up to $30,000. The new or remodeled swimming pool will include a full line of the latest Energy Solutions® products by Hayward Pool Products.
To participate in the SwimmingPool.com New Pool Sweepstakes, visit SwimmingPool.com on Facebook or visit http://www.SwimmingPool.com for more information.