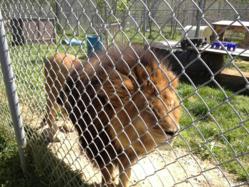 Owners of exotic animals are scared right now because they are not sure how they can keep up with the new standards when there was such little oversight previously.
San Diego, CA (PRWEB) July 09, 2012
While Ohio takes steps towards limiting the private ownership of wild and dangerous animals, communities in other states still risk incidents such as the one that took place in Zanesville, OH last fall where exotic animal owner Terry Thompson released dozens of dangerous animals before taking his own life.
Currently, according to the Humane Society of the United States (HSUS), Nevada, Missouri, North Carolina and Oklahoma have the four worst state laws restricting exotic animals. Ohio was among them but has now passed new legislation that tightens the requirements to exotic animal ownership. With little oversight, states like West Virginia, Wisconsin and Alabama also have weak laws concerning exotics and place the public in potential harm's way.
But even as Ohio implements its new law, many fear that the new standards will be hard to meet and they will need to get rid of their animals by relocating them to a more responsible agency or organization or worse, put them down. Bobbi Brink, Founder and Director of Lions Tigers & Bears Big Cat Sanctuary and Rescue has received numerous calls from exotic animal owners asking for her assistance as the new law requires permits and higher standards of care that will be more costly or unattainable.
"The new law was necessary, especially following the tragedy that took place in Zanesville last fall," says Brink. "But now many facilities that were already struggling because of the economy are finding it impossible to maintain these new standards and are asking us for help to place their animals."
The demands for assistance is increasing and Brink is answering the calls and providing aid to ailing facilities that can no longer keep up with the demands and resources needed to shelter these wild animals. Brink has made several visits to Ohio and met with private owners, facilities and government officials to find answers and solutions on how to keep these animals, and the public, safe during the implementation of the new law.
Brink and her team have worked with HSUS and the Global Federation of Animal Sanctuaries (GFAS) in a coordinated effort and lead rescue efforts that so far has included the placement of 11 tigers, six lions, five cougars, and one bear, of which she has brought back to her sanctuary in California. She is currently working with other facility owners to place wolves, tigers and more bears. The process in transferring the animals is laborious and involves veterinary assistance to protect the animals as well as an on-sight safety officer to protect the public. Coordinating the animals move to various facilities around the country has been a taunting task for Brink but a task she believes is necessary. Furthermore, Brink has been working with state officials to help define the needed standards in order to keep the animals safe and healthy as well as protect the public.
"Owners of exotic animals are scared right now because they are not sure how they can keep up with the new standards when there was such little oversight previously," continued Brink. "We continue to get calls on a regular basis and we are committed to helping these facilities and owners do all they can to either raise their level of care and safety or find a new home for these animals."
The costs associated with any upgrades or in transporting wild animals are high and Brink has been seeking grants and donations to help cover these costs. More about Lions Tigers & Bears and donating to the effort can be found on their website at http://www.lionstigersandbears.org.
# # #
Lions Tigers & Bears is a federally and state licensed non-profit 501(c)(3) rescue facility dedicated to providing a safe haven for unwanted and abused exotic cats and other exotic animals. We are a NO KILL, NO BREED, NO SELL facility that allows animals in our care the opportunity to live out their lives with dignity in a caring and safe environment. Our goal is to provide a safe haven and to educate the public about the growing population of abandoned unwanted exotic animals.
For more information or to make a donation to help care for the animals at LTB, please visit the Lions Tigers & Bears website at http://www.lionstigersandbears.org or call (619) 659-8078.