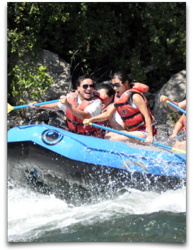 By working with LivingSocial Adventures, River Recreation was able to provide a whitewater rafting adventure to many people along with a luxury coach bus ride and a delicious BBQ cookout.
- Amy Hooper, Office Manager
Seattle, WA (PRWEB) July 11, 2012
River Recreation, Washington's leader in whitewater rafting tours and excursions, is proud to announce the continued success of a popular summer rafting trip they have offered on LivingSocial.com. The adventurous package includes an afternoon of whitewater rafting on the Wenatchee River followed by a grill cookout, all with transportation included. The program was wildly successful, selling out all 9 dates through their online marketing campaign. Emboldened by the offer's success, River Recreation is excited by the buzz surrounding their afternoon of rapids and relaxation.
The excursions for whitewater rafting in Washington begin at the Westlake Center in downtown Seattle where a tour bus takes the participants to the banks of the lower Wenatchee River. After a safety lesson and quick tutorials, the 2-2 ½ hour long rafting trip begins. The lower Wenatchee River rapids are considered class III/III+, meaning larger rapids that still provide accessibility to the novice rafter. Whitewater rafting on the Wenatchee River is considered to be a particularly scenic run, ideal for a casual afternoon away from the city.
After the long day of rafting, participants are hosted at a cookout directly on the river banks. There is food for all tastes; including burgers, bratwurst, potato salad, watermelon, and a garden salad. Also, each participant over 21 years of age will receive a voucher for a beer at the picnic, with soda as an alternative option. The event concludes by returning the participants to Westlake Center in the early evening.
"By working with LivingSocial Adventures, River Recreation was able to provide a whitewater rafting adventure to many people along with a luxury coach bus ride and a delicious BBQ cookout. This deal took care of all the details that typically go into a whitewater rafting trip, allowing customers to just sit back and enjoy the ride-on both the road and the water."

Amy Hooper, Office Manager
The success of the whitewater rafting in Washington event has largely been due to a campaign on LivingSocial.com. LivingSocial has provided an accessibility to book the trip that has been essential to its success. Priced at a mere $140, the excursion has sold out all 9 dates that it has been offered, including all currently booked dates in early July. With such popularity, River Recreation is proud of the attention their event has received and plans to continue offering adventurous trips at affordable prices.
About the Company
Founded in 1982, and based on the banks of the Wenatchee River, River Recreation offers an activity and accessibility that many would be hard-pressed to experience otherwise. Featuring runs ranging from leisurely family float trips to torrential rapids, River Recreation offers whitewater rafting throughout Washington. For information on upcoming adventures and deals on whitewater river rafting in Leavenworth, please visit River Recreation's website, or contact them at:
River Recreation
P.O. Box 125
Monitor, WA 98836
Phone: 206-276-8774
Toll free - 1-800-464-5899
Email: office(at)riverrecreation(dot)com