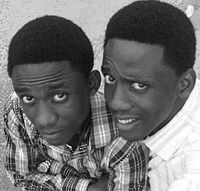 LAGbook is set to hit over 500,000 registered members by the end of this year, and 1,000,000 registered members by 17th April, 2013.
Lagos, Lagos (PRWEB) July 11, 2012
Prominent African social networking website, Ladies And Gentlemen book, popularly known as LAGbook, on the 18th of June, 2012, signed an 8 week advertising deal with Research in Motion (Blackberry) Nigeria.
It was spread earlier on the internet that this deal was valued at 1.2 million Naira, but according to Chidi Nwaogu, CEO at LAGbook, "This figure is totally false," Chidi continued "The true figure is undisclosed and will remain so."
Before the deal, LAGbook had over 75,000 registered members with local and international media attention from TechCrunch, Vanguard, National Mirror, Business Day, Webrazzi and AllAfrica.
The African social network with 140,000 registered members as of writing, was initially created as an exclusive social network for students of University of Lagos on 17th April, 2010 by Nigerian computer programmers, internet entrepreneurs and twin brothers, Chidi and Chika Nwaogu, popularly referred to as "Africa's Mark Zuckerbergs."
Less than 2 months after inception, the social network with 3,000 registered students expanded to the Nigerian population at large. After recording over 20,000 members, the social network expanded its reach to the 21 English-speaking countries in Africa (including Nigeria, Ghana and South Africa).
With over 60,000 members on Jan 2012, LAGbook made its most recent expansion, targeting the youth demographic (18-30) around the world. In the past, LAGbook has partnered with Etisalat Nigeria as a social earning network where Etisalat subscribers around the world unwind, mix-up, connect with one another and share their daily Etisalat experience.
Recently, LAGbook started massive promotional campaigns for Blackberry as official Blackberry artworks "Don't Wait, Activate!" replaces the backdrop of LAGbook's front page, including the cover photos of 5 LAGbook fan-pages on Facebook and the backdrop of LAGbook's twitter handle.
The young African social network fondly called the "Facebook of Africa" also sends periodic messages to its 140,000 members about Blackberry. The sponsorship deal is expected to end on 11th August, 2012, if there is no roll on.
Since 13th June, 2012, LAGbook's growth curve peaked, attracting over 3,000 new members daily with popularity in India, Turkey, Canada, United States, United Kingdom, Romania, Germany, Malaysia, Philippines and most especially Nigeria in the city of Yaba, Lagos, where the social network was incepted and currently ranks #3 in traffic, right after Facebook (#1) and Google (#2).
With LAGbook's recent growth curve, the social network is expected to become Africa's #1 largest social networking website with over 500,000 members by year end. According to Chika Nwaogu, the 22 year old co-founder of LAGbook, "The deal was initiated by Tunji Ademiluyi, RIM's Carrier Marketing Manager. It was miraculous. Phone rings and guess who's calling? Blackberry!"
"The deal was handled by Blackberry's Ad agency in Nigeria, Yellow Brick Road Ltd.," says Chidi Nwaogu, CEO at LAGbook and nominee of the 2011 Nigeria Youth Merit Award for ICT. "LAGbook worked closely with Ayisola Iroche and Caroline Daniels of Yellow Brick Road Ltd." Chidi continued, "And maybe there might be a roll on, which is solely RIM's decision."
According to Wikipedia, LAGbook is a social network focused on expanding the social experience of people, thus go by the name; "social discovery network", a social network for meeting new people everyday.
When speaking to Chika Nwaogu, LAGbook's Chairman, on LAGbook's next step, Chika said, "LAGbook has started a massive viral campaign and the results reflect on its increasing user-size and rapid growth rate." Chika continued, "LAGbook is making foundation steps toward becoming Africa's largest social networking website before 2013 and everyone here is excited!"
"LAGbook is set to hit over 500,000 registered members by the end of this year, and 1,000,000 registered members by 17th April, 2013," says Nosa Ilegbinehi, Vice President, Risk and Asset Management at LAGbook. Nosa continues, "Everyone at LAGbook is excited to be part of the team that is building Africa's largest, strongest and most preferred social network."