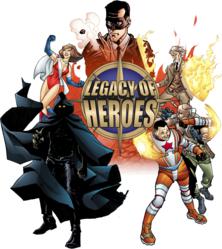 "Legacy of Heroes is steeped in the rich tradition of comic book history, and yet is totally different from anything else that's been done before."
Roseville, CA (PRWEB) July 09, 2012
Get ready for the next generation of comic book heroes. 5th Planet Games, Inc., an independent developer of core, free-to-play online games, today announced Legacy of Heroes, a comic book-inspired Collectible Card Game (CCG) launching exclusively at Kongregate.com. Built by the same team that developed board games for popular IP such as The Walking Dead and Twilight, Legacy of Heroes will soon be accompanied by digital and print comic books of the same name, as well as action figures and other transmedia properties.
Legacy of Heroes was written by Brian David-Marshall, a comic book industry veteran whose previous work includes titles for Marvel Comics, DC Comics and many others. David-Marshall was the co-founder and principal of To Be Continued LLC when it was acquired by 5th Planet Games earlier this year and now serves as 5th Planet's General Manager and Lead Designer, New York. David-Marshall has worked in the comic book industry as a writer, editor, and publisher and has been involved in the collectible card game industry since its inception more than a decade and a half ago.
Some of the comic book industry veterans who contributed artwork to the game include Steve Ellis, Amanda Conner, Lee Moder, Dan Panosian, Giancarlo Caracuzzo, and Jamal Igle.
"Legacy of Heroes is steeped in the rich tradition of comic book history, and yet is totally different from anything else that's been done before," said Brian David-Marshall, who had previously edited comic book projects with Conner, Ellis, and Igle. "It was an honor to work alongside some of the most respected names in the industry on this project, and the result of all that collaboration was an outpouring of creativity. I think the end result is something that all fans of comic books will really love."
Legacy of Heroes invites players to start out as freshman at the world-famous Phaeton Project—a school for young super-powered beings known as "Emergents." Players' strategic thinking, decision-making capabilities and outright luck will be put to the test as they compete in head-to-head card battles to try to build up their decks. As players advance in the game they must strengthen their own super-powers and define what kind of "Emergent" they choose to become. Additional game features include:

Beautifully drawn cards: Build up your deck of cards featuring captivating characters, unique powers and world-class art.
Deck customization: Customize your deck to suit your own tastes, with deep variation in deck building powered by the game's unique badge system.
Drafting: Take part in epic draft battles, competing against other players and Leagues.
Booster Packs: Purchase booster packs to improve your odds of defeating your opponents.
Missions: Complete missions such as "Welcome to the Jungle" in order to unlock some of your super powers.
"We are very excited to support the launch of 'Legacy of Heroes' exclusively on Kongregate," said Jim Greer, CEO of Kongregate. "5th Planet Games has published some of the most successful games on our platform with their titles receiving more than 20 million gameplays; we are delighted to add 'Legacy of Heroes' to that list. The comic book styling and storyline combined with beautifully designed artwork and challenging gameplay creates a one-of-a-kind experience that we are confident our 15 million hard core gamers are going to love."
Legacy of Heroes is free to play and available online at http://www.kongregate.com/games/5thPlanetGames/legacy-of-heroes. Track game updates, including the availability of the comic books and action figures, by following @5PG_LoH on Twitter. For game logo, screenshots and other assets, please contact matt(at)fluidspeak(dot)com.
About 5th Planet Games
5th Planet Games is an independent developer of core, free-to-play games designed for casual gamers and hardcore enthusiasts alike. Established in 2009, the company's mission is to build games that the employees themselves would want to play, and the results are several successful Role Playing Games including Dawn of the Dragons, Legacy of a Thousand Suns and Clash of the Dragons, all available on Facebook, Kongregate and their own destination web sites. In 2012 the company acquired To Be Continued, LLC, a leading developer of Collectible Card Games. 5th Planet Games is headquartered in Roseville, California, with offices in New York. For more information, visit http://www.5thplanetgames.com.
# # #
Media Contact
Matt McAllister
Fluid PR
(510) 229-9707
matt(at)fluidspeak(dot)com
Company Contact
Brittany Lease
Marketing Manager
(916) 782-1506
blease(at)5thplanetgames(dot)com