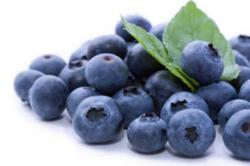 "Adding half a cup of blueberries to an average daily variety of fruits and vegetables can effectively double the body's antioxidant level."
Herndon, VA (PRWEB) July 10, 2012
Pure Matters, a retailer of premium health and wellness products, recognizes National Blueberry month celebrates and the fruit's nutritional benefits as part of a balanced diet and lifestyle.
Now grown in 35 states, the U.S. supplies 90% of the world's blueberries. Long known for their medicinal qualities, Native Americans used blueberries for everything from relaxing women during childbirth to purifying blood. More recently, according to the New England Journal of Medicine, researchers found blueberries help prevent infections in the urinary tract in much the same way cranberries do. Established by the United States Department of Agriculture in 1999, National Blueberry month is celebrated throughout the month of July.
Why eat blueberries?
"Blueberries are a sweet treat, pack a real nutritional punch and are highly efficient. Adding half a cup of fresh blueberries to an average daily variety of fruits and vegetables can effectively double the body's antioxidant level," explains Koren Barwis, Pure Matters Health & Wellness Coach and Director of Customer Experience. "That's the kind of purity and purpose we're always striving to integrate into our products and the lives of our customers."
Here are five reasons to eat more blueberries excerpted from PureMatters.com:
Antioxidants
Blueberries are chock full of antioxidants. In fact, studies have shown they rank higher than almost all other fruits and vegetables. Even the berry's blue color can be attributed to antioxidants, known as anthocyanins. According to the National American Blueberry Council, fresh blueberries contain 15 different anthocyanins. Antioxidants are important in disease prevention because they help protect and repair cells from damage caused by free radicals, which helps to strengthen immune systems and prevent chronic diseases like cancer.
Pterostilbene can also be found in blueberries and grapes and its inclusion in diets has been linked to lowering cholesterol and in some cases, possible anti-cancer effects. For consumers who do not always incorporate blueberries and grapes in their daily diet, an exclusive new product Pterostilbene Plus may be a wise supplement featuring two patented antioxidants: Silbinol® and Resvenox™. This powerful combination was designed to support cardiovascular health and immunity while combating the normal effects of daily stress and toxins.
Heart Health
Studies have also shown that blueberries can help to lower blood pressure, raise the level of HDL, or "good" cholesterol and lower "bad," or LDL, cholesterol. While much of this has to do with the high levels of antioxidants, blueberries seem to be more successful in maintaining cardiovascular health than other antioxidant foods.
Memory
A recent study published in the Annals of Neurology in April linked blueberry intake with increased cognitive function in older adults. The study, which looked at 16,000 women with an average age of 74, found that those who had the highest berry intake had better overall cognitive function and memory.
Blood Sugar
The high fiber content of blueberries combined with their low glycemic index make them a good choice for regulating blood sugar. Studies have shown that low-GI fruits like blueberries can help to regulate blood sugar levels in those with Type 2 diabetes. Cinnamon Extract can also help maintain blood sugar levels.
Freshness
The fresher the fruit, the higher the health benefits. You can pick your own blueberries at locations across the country. An affordable, easy to find option by visiting the North American Blueberry Council (NABC) site.
Pure Matters offers Guaranteed Satisfaction with its no questions asked return policy. For more information and to find Pure Matters health and wellness products and related content, visit the company's website at http://www.purematters.com.
About Pure Matters
Pure Matters is a health and wellness retailer, providing wholesome, natural vitamins, minerals and herbal supplements. Dedicated to quality and efficacy, Pure Matters relies on rigorous testing, quality assurance procedures, as well as over a century of pharmaceutical heritage. Pure Matters puts the health of customers first and foremost, offering pure-balanced solutions proven to enhance quality of life.