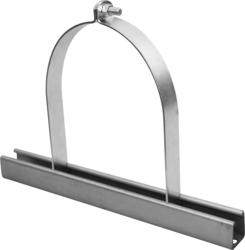 Nordfab Ducting clamps together in seconds. Its the preferred ducting for any dust collection system.
Thomasville, NC, USA (PRWEB) July 11, 2012
Nordfab Ducting is pleased to introduce the MH Hangers for strut channel mounting constructed of 14 gauge galvanized material. These unique hangers eliminate swaying and can be strut mounted vertically or horizontally. Our 9" hanger has been tested to withstand 170lbs while our 20" hanger withstood 850lbs. Hangers require no extra hardware such as threaded rod and strut nuts, which speeds installation on struts compared to conventional C-clamp and threaded rod installations.
For more information on this product, contact us at 800-532-0830 or visit us at http://www.nordfab.com