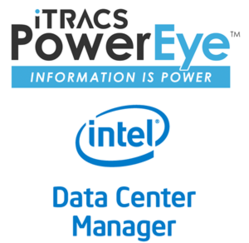 You can find and unplug 'ghost' servers that are draining power without delivering value to the business.
Chicago, Illinois (PRWEB) July 10, 2012
iTRACS Corporation, Inc., the leading provider of open, enterprise-class Data Center Infrastructure Management (DCIM) solutions, and Intel, a world leader in developing technology that advances how people work and live, demonstrated six business use cases showcasing the real-world business impact of their energy efficiency capabilities to a gathering of European data center owners and operators at the June 25 Datacenter Dynamics Converged event held in Munich, Germany.
iTRACS PowerEye™ is a best-practices strategy – powered by the iTRACS Converged Physical Infrastructure Management™ (CPIM™) platform – that offers end-to-end visualization and management of the entire power chain, inclusive of all interdependencies, across IT, Facilities, and Building Management Systems. With the integration of Intel® Data Center Manager software, iTRACS collects, aggregates, visualizes, and analyzes real-time power and thermal readings at the individual device level (CPU). This iTRACS solution opens a world of opportunity for how power and cooling in the data center are managed and optimized.
"Using actual real-time power and thermal readings from Intel, as opposed to faceplate or modeled estimates, offers a new level of insight and knowledge that creates quantifiable cost savings and business impact," said Elizabeth Given, President and CEO of iTRACS. "Rather than estimates, you're making informed decisions based on actual power consumption and temperatures. This increases decision-making agility and reduces risk while improving efficiency across both strategic planning and operational activities. You can find and unplug 'ghost' servers that are draining power without delivering value to the business. You can uncover and resolve vulnerabilities in terms of power or cooling issues that can disrupt business continuity. You can confirm the best location to add 300 more servers in your data center next week – and commission them within minutes."
The six business use cases presented at the Munich event offer payback on the user's DCIM investment with hard dollar savings, soft dollar savings, efficiency improvements, and/or availability improvements. They leverage iTRACS' interactive 3D visualization capabilities – a navigable 3D model that transforms real-time data from Intel into fresh insight. Rather than being buried at its source or in applications – even worse, in spreadsheets – the data is visible, meaningful, and actionable, managed in an interactive 3D environment that drives collaboration and efficiency. The business use cases are: 60% Higher Rack Densities/Capacity Planning, 40% Cost Savings Vs. Intelligent Power Strips, 27% Energy Savings with Workload Scheduling, 15% Energy Savings by Eliminating Ghost Servers, Cooling Efficiencies using Real-Time Thermal Maps, and Enhanced Business Continuity/Workload Demand.
The business use cases are available for demonstration by iTRACS upon request.
About iTRACS
iTRACS is the leading provider of enterprise-class Data Center Infrastructure Management (DCIM) solutions that drive efficiency, performance, cost savings, and strategic value in the data center.
iTRACS' best-in-class portfolio, Converged Physical Infrastructure Management™ (CPIM™), features the world's first and only holistic view of the data center using an interactive, navigable 3D environment. Interactive 3D Visualization – The Efficiency Engine™ is at the heart of the CPIM™ solution, unleashing new opportunities to create efficiency and business value in the design, management, and optimization of IT physical infrastructure.
Today, CPIM™ with Interactive 3D Visualization is being globally deployed in some of the world's most complex data centers and IT infrastructures, including four of the seven industry-recognized global leaders in data center design and management. iTRACS is helping these organizations drive efficiency and optimize asset performance. Reduce costs. Leverage cloud, SaaS, and other game-changing technologies. Manage change. Minimize risk. And optimize the business value of the entire physical infrastructure investment. iTRACS is proud to be named a 2011 Gartner Cool Vendor in DCIM, and named an IDC Major Player in DCIM in the IDC MarketScape: Worldwide DCIM 2011 Vendor Analysis report.