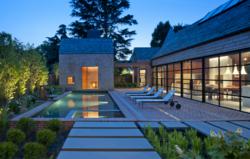 Washington, DC (PRWEB) July 09, 2012
The District Architecture Center's SIGAL Gallery has opened its latest exhibition, "Washington Living". The exhibition is organized and presented by The Washington Chapter of the American Institute of Architects (AIA|DC) in cooperation with Washingtonian Magazine and the 2012 Washingtonian Residential Design Awards, and celebrates award-winning residential design around Washington DC.
For more than 30 years AIA|DC and Washingtonian Magazine have co-sponsored a design competition which recognizes excellence in residential design. Nine winning submissions were selected by a panel of distinguished architects from outside the Washington DC area, including Nancy Rogo Trainer, FAIA, Kenneth Hobgood, FAIA, and Sanford Steinberg. The winning submissions represent works by:

Dale Overmyer, Architect
David Jameson, Architect
David Jones, Architects
Dynerman Architects, pc
Gardner Mohr Architects, LLC
Robert M. Gurney, FAIA, Architect
Studio Twenty Seven Architects
WDG Architecture
The works will be on view through Saturday, August 4th at the District Architecture Center.
The District Architecture Center is located at 421 7th Street NW, Washington, DC 20004. Visiting hours are 10 a.m. to 7 p.m. Monday through Thursday; 10 a.m. to 5 p.m. Friday; and 10 a.m. to 2 p.m. Saturday. The gallery is closed on Sunday. Admission is FREE.
ABOUT THE AIA|DC:
Founded in 1887, the Washington Chapter of the American Institute of Architects (AIA|DC) represents more than 2,100 members and is celebrating its 125th anniversary in 2012. The Chapter was intimately involved in the design and planning of Washington, and continues to play an active role in city development. AIA|DC advances the value of architecture for its members, the profession, and the community. In late 2011, AIA|DC created the District Architecture Center in Penn Quarter to provide numerous programs for the public and industry professionals.
ABOUT THE SIGAL GALLERY:
The District Architecture Center's SIGAL Gallery serves as one of three leading venues in the District of Columbia dedicated to the celebration of architecture and the built environment. The SIGAL Gallery presents exhibitions that engage architects, architectural enthusiasts, related professionals, students, and the general public by offering a platform for discussion on the role of architecture in the city while showcasing excellence in architecture, historic preservation, interiors, urban design and universal design. Exhibitions rotate throughout the year with selected shows organized by The Washington Chapter of the American Institute of Architects (AIA|DC) and the Washington Architectural Foundation.