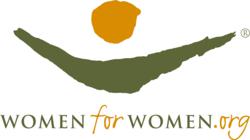 Washington, DC (PRWEB) July 09, 2012
Women for Women International (WfWI) recognizes the one-year anniversary since South Sudan declared independence from Sudan. As the world's newest country marks this historic milestone, WfWI is deeply concerned by the cross-border conflict with Sudan, an ongoing food crisis, and inter-communal violence, and calls for women to be included in all efforts to address these challenges.
The high hopes that many had for a peaceful future for South Sudan at independence have dimmed. In March, tensions between South Sudan and Sudan over unresolved border and oil issues erupted into armed conflict along the border, and thousands of Sudanese have since fled to South Sudan, straining resources and adding to the country's instability.
With peace talks between South Sudan and Sudan underway, WfWI is concerned by the fact that women have been so far excluded from the negotiations, and that the important role they play in building peace has not been recognized. "The focus of the current peace talks – border disputes, oil, and the status of nationals of one country residing in the other – is a very limited and narrow scope of issues to address to bring about peace," said Andree Simon, President and COO of WfWI. "Women must be included in all levels of the peace-building process in South Sudan because they tend to broaden the concerns addressed by negotiations and focus on issues that will bring long-term stability and economic development, such as reconciliation, education, and building stronger economies."
Some of these broader issues affecting security include the severe food insecurity in South Sudan and high levels of inter-communal violence. The country's food crisis is growing, and more than 4.7 million people – over half the population – will face hunger earlier and longer than expected this year. Ongoing inter-communal violence has taken a devastating toll on communities, especially in Jonglei state where nearly 900 people were killed in a series of violent cattle raids from December 2011 to January 2012.
In the past, women in South Sudan have been critically important in efforts to set the country on the path to peace. Women turned out in record numbers for historic national elections in 2010 and for the 2011 referendum for independence, comprising a majority of voters in both elections. After more than two decades of war, women are calling for peace and stability. "The women of South Sudan wish for peace, because with peace they can do many things," said WfWI-South Sudan Country Director, Regina Sulla. "When you talk with the women, you can see all they wish for is for their children. 'I want my children to go to school. I want my children to have a good education so they can work, so they can be Prime Ministers or Presidents.'"
Since 2006, Women for Women International has served over 13,000 women in South Sudan, providing access to training in business and vocational skills, rights awareness, health education, and social support. With these skills, women are better equipped to take care of themselves and others during these difficult times, and build the conditions for peace in their countries. "As women in South Sudan face the effects of violence, food insecurity, and instability, they also struggle with the daily constraints of extreme poverty," said Karen Sherman, WfWI Execuitve Director of Global Programs. "90% of the population in South Sudan survives on less than $1 per day, which creates its own instability. WfWI helps women gain skills that will enable them build security and peace in all areas of their lives. With vocational and business skills, women can contribute to building local economies. Through rights awareness training, women learn how they can take action to address their community's needs with others. This is how lasting peace is built."
In August, WfWI will launch a new campaign to raise further awareness about the challenges facing women in South Sudan. Featuring the personal struggles and successes of several inspiring women who have participated in WfWI's program in South Sudan, WfWI will shed light on the common experiences of many women in the country. These women are beacons of hope, as they create in their daily lives the foundations for stability in their homes, communities, and country. WfWI believes that when women are equally part of both the official and unofficial peace-building processes, South Sudan may finally have the opportunity to build a lasting peace.
About Women for Women International
Since 1993, Women for Women International (WfWI) has worked to provide women survivors of war, civil strife, and other conflicts with resources to move from crisis and poverty into stability and self-sufficiency. WfWI delivers these resources through a tiered, year-long program that begins with direct financial aid and emotional support. Participants also learn about their legal rights; receive life-skills training such as health awareness, numeracy, budgeting and saving, decision-making and negotiation, and civic participation; learn business and vocational skills; and gain access to income-generating activities where they can apply those skills and begin moving towards economic stability. Along with helping more than 398,000 women in the past 20 years to rebuild their own lives and those of their families and communities after war, WfWI uses its voice to call global attention to the unique role that women play in advancing peace throughout society. WfWI works in Afghanistan, Bosnia and Herzegovina, the Democratic Republic of the Congo, Iraq, Kosovo, Nigeria, Rwanda, and South Sudan.
For more information please contact: KCastillo(at)womenforwomen(dot)org and visit Women for Women International's website: http://www.womenforwomen.org