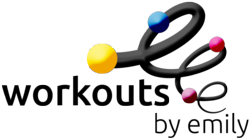 Fat loss and fitness require proper diet and consistent exercise, but the exercise does not have to be torture. 20 minutes, three or four times a week will get the job done.
(PRWEB) July 10, 2012
When it comes to exercising, most of us could use a little direction. Emily brings it home to the public with four new video workouts per week, now available via online membership. While exercising from the privacy and convenience of home, members can have fresh and effective workouts each week that don't require a great deal of time and space.
Click Here for Emily's free trial membership page
Testimonials from Emily's clients are glowing. "Emily's workouts have changed my life", and "I would feel lost if Emily ever quit providing workouts". But don't take their word for it. Says Emily, "try my video workouts free for a month with no commitment".
For reasons of overall health, as well as fitness and physique, Emily has always been a staunch proponent of physical exercise. This personal drive prompted her to create effective workouts for herself, and eventually to share them with others by way of training in her personal studio. Now, of course, these are available to everyone on a free trial basis through her website.
As one final caveat, Emily warns against the danger of ignoring nutritional intake in favor of fitness only, or the other way around. To manage fat loss, Emily recommends the Fat Loss Factor program to complement her online workouts.