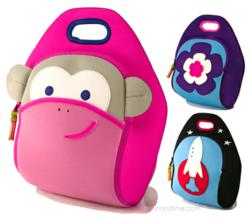 Our new biodegradable lunch bags will disappear in the landfill but not until they've been used for at least an entire school year or more.
Vancouver, BC (PRWEB) July 11, 2012
Moms can pack school lunches this fall that are truly litterless thanks to a new eco-friendly lunch bag. Online eco boutique Lavish & Lime is pleased to introduce a new line of biodegradable reusable lunch bags for kids made of the revolutionary toxin-free material Ariaprene, just in time for back to school 2012.
"Our lunch bags have always been free of PVC, lead and phthalates to avoid the off-gassing of these nasty chemicals around kids and their food, and now we're thrilled to be able to offer a bag that's also biodegradable," said Lavish & Lime founder Colin Campbell. "Ariaprene is a new material that's significantly more environmentally friendly than traditional reusable lunch bag materials. Like brown paper bags, our new biodegradable reusable lunch bags will disappear in the landfill but not until they've been used for at least a school year or more. Pair this bag with reusable food containers and compost any leftovers for a 100% waste-free lunch."
Ariaprene is constructed with a unique cross-linked elastomer bond that allows for easy decomposition at elevated levels of temperature and moisture, as found in all landfills. It is naturally water-resistant, highly elastic, machine washable and has 30% higher insulating properties compared to neoprene. Ariaprene is 100% free of toxic chemicals and safe for everyday use.
Biodegradable lunch bags are available in various fun and funky designs for both girls and boys – all in striking bold colours, including Cheeky Pink Monkey, Purple Flower and Rocket. At 30.5cm high x 28cm wide, these lunch bags for kids are large enough to fit a water bottle, sandwich or thermal container plus plenty of snacks. The interior mesh pockets, wide exterior pocket and zippered closure keep contents organized and secure. The bags retail for CDN $28.50.
About Lavish & Lime
Established in 2007, Vancouver-based eco boutique Lavish & Lime has grown to become a leading source for non-toxic and eco-friendly alternatives in Canada. Learn about the latest everyday eco finds available and view hundreds of products for greener, healthier living – including the latest in waste-free lunch gear – at lavishandlime.com.
For more information or images, please contact Lavish & Lime co-founder, Louise Campbell on 778-279-5463 or at louisec(at)lavishandlime(dot)com.