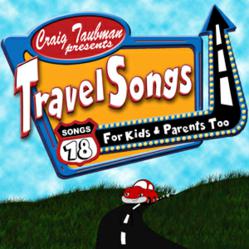 (PRWEB) July 30, 2012
Following the success of their "Passover Songs of the Red Sea Pedestrians," which hit #3 on Amazon, and "Songs for Moms and Other Cool Women," Craig 'N Co. is excited to release their summer fun compilation "Travel Songs for Kids and Parents Too."
"Are we there yet?" will never be uttered in your car while listening to these upbeat fun driving songs. Containing classics from Parent's Choice Winner Craig Taubman and Billy Jonas to the whimsical styles of Mama Doni and Shira Kline, this sampler can drive you straight across the country. Craig Taubman, producer of the album, reached out to his friends; Brad Schachter, Jennifer Duretz, Judy Farber, Peri Smilow, Sam Glaser, Soul Aviv, and Susan Shane Linder.
"I love the variety of music and musicians," said Taubman. "From veterans like Sam Glaser and Judy Farber to rising vocal artists such as Elana Jagoda and Naomi Less, this mix is eclectic is just plain fun."
For more information or to schedule an interview, please contact Rachel Cohen at 818 760-1077