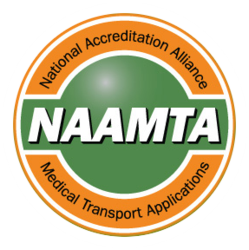 "In searching for a person to add to our staff, all roads and every indication pointed to Dr. David R. Boyd. When it comes down to it, I don't believe you could even think "EMS" without thinking "Dr. Boyd." Roylen Griffin, Executive Director.
American Fork, UT (PRWEB) July 10, 2012
The National Accreditation Alliance of Medical Transport Applications (NAAMTA) would like to extend a hearty welcome to Dr. David R. Boyd as an Advisor to the Executive Director, and the newest member of the NAAMTA Alliance. Dr. Boyd is internationally recognized as the "Father of Trauma and Emergency Medical Services (EMS) Systems."
"In searching for a person to add to our staff, all roads and every indication pointed to Dr. David R. Boyd. When it comes down to it, I don't believe you could even think "EMS" without thinking "Dr. Boyd." I am more than proud that he has joined our team and is helping to shape our future. His dedication to the ever-changing world of EMS will continue to have his footprint upon it. As an Advisor to NAAMTA, his knowledge and experience is more than an asset," states Roylen "Griff" Griffin, Executive Director of NAAMTA.
Dr. Boyd graduated from the University of McGill, Faculty of Medicine in 1963, and soon embarked on a lifetime career of improving trauma care and emergency medical services. Dr. Boyd developed the framework and guidelines necessary to implement EMS Systems throughout the United States.
Dr. Boyd's impact on this new field and the universally accepted "Systems Approach" was from practice, innovation, implementation and expansion into a national health priority in the US with many replications in Canada and beyond.
In 1974 Dr. Boyd was appointed by President Ford the National Director of the Office of EMSS in the Public Health Service, Department of Health and Human Services. He established Trauma and EMS Systems in every state and territory. He facilitated the development of an EMSS "Lead Agency", in state and major city and county public health departments. In 1972 he testified and was asked by Congress to write the Systems Concepts, Clinical Requirements and Operational Component sections of the pending Federal EMSS Legislation, i.e., EMS Systems Act of 1973, Public Law 93-154.
Throughout his career, Dr. Boyd has served in numerous public and private sector positions in trauma and emergency medical services. He has authored over 140 scientific articles and technical documents on Trauma Surgery and Emergency Medicine, Shock Management and Critical Care and Trauma and EMS Systems, including a textbook, eg. "Systems Approach to Emergency Medical Care."
Here are three of his many lifetime awards:

1998 - American Public Health Association: Injury Control and Emergency Health Services Section; Distinguished Career Award.
2006 - National Safety Council (NSC) presented Dr. Boyd with the prestigious "Surgeons' Award for Service to Safety." This is the highest professional award given in the field of trauma.
2011 - Advocate Injury Institute; Life Time Achievement Award "In Gratitude and Recognition of his Visionary Leadership, Passion, and Pioneering Spirit That Led to the Development of A Systems Approach to Trauma Care and EMS Services in Illinois 40 Years Ago on July 1, 1971"
He retired after 45 years of dedicated service to the severely injured, to Trauma and EMSS and his recent position as the National Trauma Systems Coordinator for Indian Health Services (IHS) in Jun 2012. He will be a valuable advisor to medical transport accreditation as he joins NAAMTA.
About NAAMTA
NAAMTA is a medical transport services accreditation organization committed to developing and maintaining "best practice procedures" and establishing a quality culture for patient care and safety, using a program that encapsulates procedures for evaluation and continuous improvement. NAAMTA's motto "Partnership for Lifesaving Excellence," and goals reflect our vision of building an Alliance and unifying medical transport organizations in these endeavors.
NAAMTA has recently acquired certification of the prestigious International Organization for Standardization (ISO 9001:2008 Quality Management System). ISO certification ensures that NAAMTA is dedicated to approaching each audit of medical transport organizations equally and fairly. Our employee auditors are also trained Lead Auditors to help maintain consistency throughout each audit.
NAAMTA's presence in the medical transport accreditation arena provides member services and tools that assist organizations in developing and maintaining quality management procedures and guidelines to continuously evaluate and improve organizational practices. Through our unique website functionality, members are able to access company documentation demonstrating compliance anytime and anywhere.
NAAMTA recognizes Dr. Boyd as a valued participant in NAAMTA's Alliance community. NAAMTA is pleased to celebrate the coming together of it's Alliance Membership with a great American EMS icon, Dr. David R. Boyd.