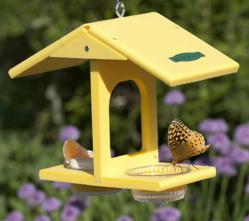 Including a nectar recipe developed by a butterfly breeder along with the feeder was a nice touch. Duncraft always goes the extra mile!
-- Deb K, Duncraft Customer
Concord, NH (PRWEB) July 10, 2012
With many parts of the country experiencing an abundance of butterflies, Duncraft now offers customers the opportunity to lure them in closer with their Eco Butterfly Feeder that can offer special nectar as well as fruit pieces.
Duncraft's Butterfly feeder is made with beautiful, recycled plastic in a lovely yellow hue. Recycled plastic is the perfect vehicle for a butterfly feeder because it's non-porous and extremely easy to clean. It can even be put in the dishwasher and won't fade or crack in water or in sunlight. The feeder includes two recessed plastic cups, each equipped with a sponge cut to fit. The cups can be used to feed homemade butterfly nectar or customers can purchase instant butterfly nectar that includes sugar, sodium salts and minerals that are craved by butterflies.
Duncraft suggests placing a butterfly feeder where it can easily be found by butterflies, such as near flowers or other places where they are seen landing. For a homemade nectar, Duncraft provides this recipe developed by a butterfly breeder. It's included in a package insert that arrives with the feeder: First make a simple syrup. Add 1 cup of white table sugar to 1 cup of bottled water and bring it almost to a boil. Right before the water starts to boil, the sugar-water solution will become clear. Immediately remove it from the heat and allow it to cool. Then take 3 ounces of water or Gatorade and add 1 teaspoon of the simple syrup to it. Then add about 6 drops of soy sauce and stir. The soy provides salts that are particularly appealing to male butterflies. Then soak the two sponges in the solution until the sponges swell to twice their size. The sponges and dish should be cleaned and fresh nectar offered everyday.
Duncraft states that simple syrup can be stored in the refrigerator, in a well-sealed bottle for up to 6 months. They suggest not using honey as a sweetener because it can re-crystallize and also harbor bacteria. Avoid tap water because of the chemicals it may contain.
Butterflies are also fond of overripe pieces of banana and small chunks of watermelon. And while they don't actually eat the fruit, they do sip liquids from it. One of the cups can be used to offer these foods while the other is reserved for nectar.
The Eco-Butterfly feeder is made in the USA at Duncraft, Inc. in Concord NH. It measures 10 ¾" wide x 6 x 9" tall and can be seen in the Butterfly and Insect Department at http://www.duncraft.com.
Founded in 1952 and located in Concord, New Hampshire, Duncraft's objective is to bring the joy of backyard birding to wild bird lovers all across the country. Mike Dunn, owner and CEO is constantly inventing and searching for innovative ideas in bird feeding—giving bird lovers years of bird feeding enjoyment, success and satisfaction.
Duncraft
102 Fisherville Road
Concord, NH 03303
603-224-0200