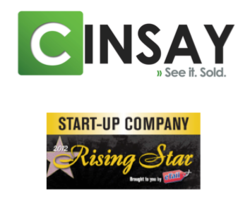 Cinsay is the right technology for the retail space and we believe we can greatly enhance what any merchant is doing in online sales right now. Christian Briggs, CEO of Cinsay
Austin, TX (PRWEB) July 10, 2012
CINSAY announced today that it has been recognized by eTail Conferences as a 'Rising Star' for Start Up companies. Earlier this year, Cinsay showcased its video commerce-enabled technology during the eTail West Conference in Palm Springs, California. The reception to Cinsay's viral-based platform exceeded industry expectations and garnered the attention of many enterprise-level retailers. After the conference, several hundred companies' profiles were submitted for the Rising Star award with criteria centered on businesses offering 'indispensable and cutting-edge, next generation services' directly to the retail industry and new companies offering 'creative solutions with a potentially big impact on retail'.
"We are very honored and grateful to be recognized by eTail for the prestigious Rising Star award", said Christian Briggs, Founder and CEO of Cinsay. "Cinsay is the only technology like this out there and we have already greatly enhanced conversions for many merchants doing online sales right now", he added.
Recent internal analytics have shown incorporating Cinsay's Video Smart Store platform into businesses' current online sales and marketing campaigns have increased conversions on average to 7.9%, compared to traditional ecommerce conversions of 1.5%. "That's a tremendous 'move of the needle' when you're considering thousands of video views. And people are buying all types of products and services inside the player; we're talking purchases from $5.95 to $2,500.00 per transaction", Briggs said.
Cinsay's platform uses video as the primary delivery solution with built-in features of ecommerce, donations, and lead generation. All of the Smart Store features are executed seamlessly inside the video player with no outside web links or redirects. Studies have shown adding pages and steps increase shopper's abandonment rate and takes much more time to complete a purchase. Shoppers can now use their PayPal account at check out for an even simpler, secure purchase. The Smart Store is also embeddable and easily shared or forwarded via email or sites like Facebook, twitter and LinkedIn. The player works on computers, tablets and other HTML5 mobile devices. With Cinsay's Premium Plus Analytics, merchants can go deeper into reporting so they can better optimize and define their ecommerce approach. The idea that 'anywhere your video goes, so goes your store' is just one of the Smart Store's many strategic advantages.
In addition to the Rising Star award, Cinsay was also recognized by Forbes magazine as one of "America's Most Promising Companies" for 2011. In April, Cinsay was selected by DEMO Spring 2012 Conference to launch and showcase their self-managed video commerce solution. During the conference, industry analysts referred to Cinsay as a 'game changer' in the field of video and ecommerce and an idea, which could be 'the start of a revolution'.
To find out how Cinsay is making a positive impact on retail business at all levels and increasing their bottom line, visit our Success Stories at http://www.cinsay.com/successstories/
About Cinsay, Inc:
Cinsay has created a next generation eCommerce, viewer interactive, video-based platform for any size businesses. Cinsay's SaaS based technology enables anyone to sell products, capture donations, and generate leads all inside the patented Smart Store. Cinsay also manages end-to-end social media and blogger campaigns through its ten million plus blogger network. Customers are offered a complete turnkey business via merchant account services as well as an exclusive on-demand solution featuring dozens of personal, brandable products like t-shirts, caps, mugs and iPhone covers. Self-managed and managed customers benefit from Cinsay's in-depth reporting tools and real-time statistical data. Cinsay's embeddable platform is compatible with web and mobile HTML5 devices and is highly scalable via its enterprise-level hosting and distribution network.