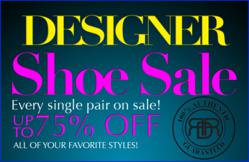 In addition to their summer shoe sale, Rodeo Drive Resale remains the largest reseller of St. John Knits in the world.
Houston, TX (PRWEB) July 10, 2012
Luxury fashion discount boutique Rodeo Drive Resale (http://www.shopRDR.com) has declared a super summer sale on all designer shoes currently in stock. Lovers of Louis Vuitton, Manolo Blahnik, Dolce & Gabbana and similar fashion houses are encouraged to visit the store's Web site and shop their collection of designer shoes, boots, sandals and other popular styles currently discounted at 50% to 75% off retail prices.
In addition to their summer shoe sale, ShopRDR.com remains the largest reseller of St. John Knits in the world. Their collection includes the brand's timeless Santana Knit suits and separates as well as choice pieces from their Evening, Collection and Sport lines. Shoes by St. John Knits also appears in the current sale, as several of their heels are available at a fraction of retail price.
ShopRDR.com offers luxury brand lovers the opportunity to earn top dollar for their gently used designer bags, clothing, and accessories while relieving their closet of excess clothing through consignment. Over the past decade, the company has developed a reputation as an innovator in its field by being one of the first web-based resellers to provide a guarantee of authenticity on each sale as well as a system for sellers to track their account earnings online.
The current sale is set to continue through July 20th, 2012. As with all purchases made through ShopRDR.com, orders of $200 and up within the United States, Canada, and Puerto Rico receive complimentary shipping, and almost every order is shipped within 1-business day. Rodeo Drive Resale also offers a 100% money back Easy-Returns policy in the event your purchase doesn't work out for any reason.
ABOUT RODEO DRIVE RESALE
With over a decade of experience, Rodeo Drive Resale specializes in buying, selling, and consignment of authentic couture fashions. Buy, sell or consign favorite luxury designers such as Louis Vuitton, Chanel, Prada, Gucci, St. John Knits, David Yurman, Christian Louboutin, Tiffany & Co. and more. All items are guaranteed 100% authentic. Visit RDR online at http://www.shoprdr.com or call toll free at (888)697-3725.