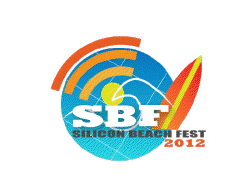 Los Angeles, CA (PRWEB) July 09, 2012
The first-ever Silicon Beach Fest attracted more than 2,000 attendees from Los Angeles, San Francisco, New York, Toronto, and London, to celebrate startups and entertainment with panels, parties, pitch fests, hackathon, and beach games in LA on June 21-23, 2012.
The tech-community generated festival events were centered in LA beach neighborhoods Santa Monica and Venice, at venues with views of the ocean on picture-perfect sunny days. The festival received national coverage in Forbes, TechCrunch, and other national and local publications.
"LA's best chapter is about to be written," said Eric Garcetti, LA City Council Member and Mayoral Candidate, who uses Twitter frequently. He kicked off the fest with his opening keynote, saying LA is a unique city of mash-ups, where tech, startups and entertainment - plus creativity, cultures, and passion - mix with successful results. "Let us come together and celebrate."
The mashup theme was reflected in the festival programming, which included panels highlighting accelerators, venture capitalists, startups, public relations, developers, movies, TV, music, web content, art, fashion, social good, surf and skate action sports, and more. Nearly all the panels featured at least one or two successful local startups. Panels were held at local boutique hotels, coworking spaces and companies. A developer debate panel was held at the newly opened Google campus in Venice, reflecting its active participation with the local developer community.
Speakers from startups to Hollywood studios gave engaging insights on panels, including venture capital firms; accelerators StartEngine, Amplify, Launchpad, MuckerLab, Originate; entertainment studios Sony Pictures, FOX, NBC, The GRAMMYs, Interscope Universal Music Group; startups BeachMint, ShoeDazzle, Pose, Viddy, Mogreet, DocStoc, PageWoo, PromoJam, Riot Games, SGN; advertising agencies OMD, Ignited, Deutsch, TBWA\Chiat\Day, Edelman, engage:BDR, as well as CAA, Klout, Ustream, Rock the Vote, and many more.
"It's great to get the tech and Hollywood together to celebrate digital innovation," said Kevin Winston, creator of the Silicon Beach Fest, and Digital LA CEO and founder. "We had so much excitement, we're already planning for a follow-up one-day Silicon Beach Fest this fall. Our full three-day festival will be next summer."
The Silicon Beach Fest has had several lasting effects:
The startup Smilu, which won the three-day hackathon with its Infected game, received more than $50K value in prizes, including admission to the StartEngine accelerator's incoming class of startups. Smilu recently started working at the StartEngine offices in Westwood. "The whole team is there, and they're awesome," said Jason Crilly, CEO of PageWoo and organizer of the hackathon.
Crilly said that his mobile services company PageWoo has had great follow-up as a result of the fest. "So many great things have come our way as a result of SBF," Crilly said. "We found three terrific new investors, a dozen potential partners, and picked up an awesome software engineer from the hackathon."
The USC-based startup That's Suspicious Behavior, which won the Student Pitch by competing against student teams from UCLA, USC and Yale, received a "Coworking All Around LA" prize pack including one-month membership at coworking spaces Coloft, CoWorks, Cross Campus, io/LA, Working Village and ROC, all of which hosted Silicon Beach Fest events.
"It is so exciting to win free office space," said Brigette Kidd, co-founder of That's Suspicious Behavior, a safety app which lets users report activities in real time. "I can't wait to meet and learn from the other startups that share the space."
Tune Goon, one of the hackathon finalists, recently joined Cross Campus coworking space as beta members.
Local leaders spoke at various Silicon Beach Fest events with packed audiences.
Jason Nazar, CEO of Docstoc, hosted his monthly Startups Uncensored panel with comedian Ben Gleib and several hundred attendees at the Fairmont Miramar hotel. Gleib gave startup founders tips on how to master public speaking and presentations, with a bit of humor.
Jason Calacanis, founder of the LAUNCH investor conference and Mahalo.com, held a fireside chat with StartEngine co-founder Howard Marks at Shutters. The next day, What's Trending host Shira Lazar moderated the Angel Pitch Day and discussion with Josh Berman, CEO of BeachMint. The Angel Pitch Day attracted 700 attendees including investors from Benchmark, New World Ventures, True Ventures, Anthem Venture Partners, RusticCanyon Partners, IdeaLab, GRP Partners, Tech Coast Angels, Pasadena Angels, and Maverick Angels.
"Los Angeles is gaining a lot of momentum in technology. This demo day was a showcase of some of the hottest LA startups", said Howard Marks, co-founder of Activision and StartEngine.
Local social media services company PromoJam hosted four social media panels, with topics including broadcast, music, latino, and voting. Rock The Vote uses social media, Facebook, Twitter, and QR codes on T-shirts, to get young voters active and sharing. At this fall's election, Twitter will show politicians' hashtag rankings during debates.
After the panels, attendees networked at nightly parties at the Viceroy, Hotel Erwin, and 31Ten Lounge. Attendees continued networking at the festival's beach games, playing basketball, volleyball and learning to surf, unique for a tech conference and fitting for LA.
Silicon Beach Fest, created by Digital LA and presented by engage:BDR, is the first startup and entertainment festival in LA with programming by its tech community, including companies Digital LA, engage:BDR, StartEngine, TechZulu, PromoJam, PageWoo, and venues Hotel Erwin, Viceroy Hotel, Cross Campus, Coloft, CoWorks, Working Village, io/LA.
Partners provided products and services to help attendees including: Uber, Here on Biz, ParkMe, Simply Petals, Triptrotting, Bloodhound, Planana, Pop-Up Pantry, EventSorbet, ROC, Startup Car, PulsoViral, TrueCar, PopChips, ONE Coconut water, Gamer Food, and Zevia.
Attendees loved the SBF energy.
"Thank you for putting together such a fantastic festival with such smart minds and genuinely collaborative people from so many parts of Digital LA and beyond," said Callie Miller, a panelist on the 'PR for Startups' panel. "I had an incredible time, met so many great people, and I'm inspired by several of my SBF conversations to launch three new projects in LA. This would not have happened without SBF."
Social media savvy attendees tweeted praise with upbeat reviews:
RT @acheeseman Wow, #SBF what an amazing couple of days! Thanks to all of my old & new friends for making it so rich with optimism, expertise, & wisdom.
RT @OEInnovation #SBF why I live in #LA: intersection of #beach #tech #entrepreneur #entertainment. & #celebrity to pull off anything!
RT @ryanjwill It was great meeting everyone at the 1st ever @SBFestLA. Loved speaking and seeing the great crowd. Can't wait for next year. #SBF.
RT @urlgrl @DigitalLA had an amazing time at #SBF. can't wait for next year!!
The lineup of speakers from tech, Hollywood, and other industries included:

Eric Garcetti, LA City Councilmember and Mayoral Candidate
Howard Marks, StartEngine, Co-Founder, formerly Activision Founder
Jason Calacanis, entrepreneur and investor
Josh Berman, BeachMint, CEO
David Carter, Amplify, Co-Founder
William Hsu, MuckerLab, Co-Founder
Adam Lilling, Launchpad LA, Director
Aber Whitcomb, SGN, CTO
Jason Nazar, DocStoc, CEO / Co-Founder
David Travers, Rustic Canyon Partners, Partner
Jim Andelman, Rincon Venture Partners, Managing Partner
Max Cohen, Google, Product Manager
Josh Constine, TechCrunch, Technology / Social Journalist
Lori Kozlowski, Forbes
Adam Popescu, LA Business Journal
Brian Deagon, Investors Business Daily
Don Hoang, Klout, Director of Business Development
Ken Chung, Viddy, CTO
Darren Rush, Pose, CTO
Anthony Rossano, Mogreet, CTO
Ara Katz, BeachMint, Head of Creative/Content/Celebrity
George Thiruvathukal, ShoeDazzle, Software Enginnering Manager
Kevin Goslar, Originate, Director of Engineering
Ethan Czahor, Honest.com (Jessica Alba's startup), CTO
Jason Crilly, PageWoo, CEO
Shira Lazar, What's Trending, award-winning host
Ann Glenn, Sony Pictures Interactive, Dir. Social Media Marketing
Hardie Tankersley, FOX Broadcasting, VP Innovation
Ana Liza Bella, NBCUniversal / STYLE, VP, Marketing Solutions
Chris Mortimer, Interscope Records UMG, Director, CRM & Social
Lindsay Gabler, The GRAMMYs, Social Media Specialist
Ian Rogers, TopSpin, CEO & Founder
Dave Martin, Ignited, SVP Media
Bud Caddell, Deutsch LA, Invention Strategist
Clint Schaff, Edelman, VP Digital and Gaming
Marc Simons, OMD Ignition Factory, West Coast Director
Ricardo Diaz, TBWA/Chiat/Day, Director Creative Technology
Ted Dhanik, engage:BDR, CEO & Co-Founder
Steve Snow, Riot Games, Senior Producer
Maria Pacheco, Atari, VP Mobile
Tony Adam, Eventup, Co-Founder
Kevin Winston, Digital LA, CEO/Co-founder
Heather Smith, Rock The Vote, President
Adam Goldstein, Ustream, Sr. Manager Business Dev. LA
Joshua Wattles, deviantART, Chief Advisor in Chief
Matt Munson, Instacanvas, CEO/Co-founder
Allison Beal, StyleSaint.com, Founder
The term "Silicon Beach" has been widely used to refer to the technology scene in Los Angeles, concentrated in the beach neighborhoods of Santa Monica and Venice.
Garcetti represents the 13th Council District and served as Council President. A fourth-generation Angeleno, he has focused on practical solutions and groundbreaking initiatives in technology and neighborhood improvements. He tweets regularly from his Twitter account @ericgarcetti.
Digital LA, the largest digital entertainment networking group based in LA, is spearheading the Silicon Beach Fest, presented by engage:BDR. Partners and speakers represented include: accelerators (StartEngine, Amplify) and local companies including PageWoo, PromoJam, TechZulu, and venue hosts including Google's new Venice campus, Cross Campus, Coloft, CoWorks, io/LA, Working Village, Hotel Erwin and the Viceroy Hotel.
Digital LA is the largest digital entertainment professional group based in LA, organizing panels and mixers that let industry experts share their success stories around the digital creation, development, marketing and social media for movies, web series, TV, music, games, and VFX. Digital LA is spearheading the Silicon Beach Fest. digitalla.net. @DigitalLA
Amplify is a startup accelerator whose investors, mentors and management include some of the most connected names in entertainment. amplify.la. @amplifyla
Coloft is a member based community and work pace for entrepreneurs, startups, and other independents, based in Santa Monica. coloft.com. @coloft
Cross Campus is a new collaborative workspace for entrepreneur members to share ideas, including a workspace, a library, a classroom to increase knowledge and skills, and a faculty of passionate mentors and instructors to help guide its members. crosscamp.us. @CrossCampusLA
engage:BDR offers advertisers cutting-edge marketing solutions, advanced technology and custom programming by integrating display, video, and branded entertainment into a single network. engagebdr.com. @engageBDR
PageWoo delivers simple solutions to enable the creation of rich mobile content paired with high conversion targeting technology. pagewoo.com. @PageWoo
PromoJam provides businesses a full suite of tools to easily build, launch, track, and promote social media promotions across multiple social networks, both online and on the mobile phone. Clients include NBC Universal, The North Face, Clear Channel Radio, Blackberry, Justin Bieber, Rihanna and Pearl Jam; promojam.com. @PromoJam
StartEngine is a rapid accelerator that provides local startups with essential resources, mentors, and counsel needed to become successful businesses. StartEngine is created by Howard Marks, co-founder of Activision, and investor Paul Kessler. startengine.com. @StartEngineLA
TechZulu is an independent news organization delivering an insightful story of the technology industry by showcasing the very people creating it. A pioneer in live Web television, TechZulu engages millions of viewers through real time reporting at conferences and its weekly news show, TechZulu Live. techzulu.com. @TechZulu
MEDIA CONTACT: Kelley Coughlan, Melrose PR, Kelley(at)melrosepr(dot)com