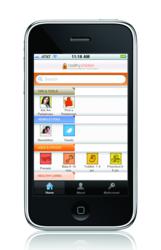 "So much parenting occurs 'in the field,' away from your home base. Now parents can access the best, pediatrician-approved advice on their children's health no matter where they are," said Jennifer Shu, MD, FAAP, Medical Editor of HealthyChildren.org.
Chicago, IL (PRWEB) July 11, 2012
HealthyChildren.org, the official American Academy of Pediatrics (AAP) website for parents, is now available on the go as a free app for smartphones and tablet computers.
Parents can look up age-by-age health information for their children, check immunization schedules, access first-aid how-to information and other resources in a new format designed for tablets and smartphones. The app includes popular features from HealthyChildren.org, including the Find-A-Pediatrician tool and the "Ask the Pediatrician" advice column.
Users can download the HealthyChildren app on the iTunes and Google Play stores.
Automatic updates to the app will keep parents informed of new features, including the soon-to-be launched Healthy Children e-magazine and upcoming apps such as an ADHD tracker and a car seat checker.
About HealthyChildren.org: The only parenting website backed by 60,000 AAP member pediatricians, HealthyChildren.org offers trustworthy, up-to-the-minute health advice and guidance for parents and caregivers, along with interactive tools and personalized content. Registered users enjoy a customized home page that features articles geared to the ages of their children. The site also offers a "Find a Pediatrician" service, an "Ask the Pediatrician" tool, the KidsDoc Symptom Checker, and more than 3,000 articles on children's health.