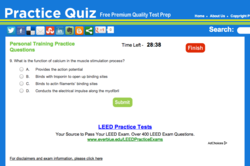 We are aggressively adding new exams by the week this summer.
Boston, MA (PRWEB) July 11, 2012
PracticeQuiz.com continues to invest in its professional exam offerings into the month of July. Today, the Boston-based test preparation website uploaded a premium personal trainer practice quiz geared to aspiring certified personal trainers.
The website now boasts eleven free professional practice exams, with more expansion in the near future.
"We are aggressively adding new exams by the week this summer," says Ted Chan, founder of PracticeQuiz.com. "Many of our fans have been requesting a personal trainer practice quiz, so we did not hesitate."
For aspiring personal trainers, taking and passing a national accredited personal trainer exam is the crucial first step. In the United States, some of today's most popular personal trainer certification exams include the ACE Personal Trainer Certification and NCSF Personal Trainer Certification. Additionally, prospective personal trainers in Canada, Australia, and the United Kingdom can utilize this practice exam as a study guide in light of considerable topic overlap.
The free certified personal trainer exam on PracticeQuiz.com is an excellent refresher for those looking to review key exam topics: exercise science, nutrition, exercise technique, program design, organization and administration, and testing and evaluation.
Test-takers who take the free PracticeQuiz.com personal trainer quiz can get a gist of what exam content and question format to expect on test day. "Best of all, it's all risk free," adds Chan. "Our ad-supported model means that we can continue to develop new content for everyone. PracticeQuiz.com is about becoming a free quality test preparation hub."
PracticeQuiz.com is an online test preparation enterprise based in Boston. The website's social mission is to increase access to education by providing high-quality test preparation content for free. Follow PracticeQuiz.com on Twitter (@PracticeQuiz) for the latest news on exam updates and upcoming releases!