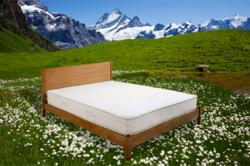 Sleeping on natural solid American Walnut Bed made in America feels so good
(PRWEB) July 11, 2012
Choosing to purchase sustainable products is the first step to changing the global climate. Globally, forests are one of the most challenging factors in the world's role to play in the transition to a new, greener economy, a theme discussed at the RIO+20 World Summit on Sustainable Development. At the Rio+20 Conference, world leaders, along with thousands of participants from governments, the private sector, NGOs and other groups, will come together to reduce poverty, advance social equity and ensure environmental protection on an ever more crowded planet to get to the best future.
In the UN News Center, The State of the World's Forests 2012 FAO's(food and agriculture organization), assistant Director-General for Forestry, Eduardo Rojas-Briales explains in a news release on the report that "Forests and trees on farms are a direct source of food, energy, and cash income for more than a billion of the world's poorest people," "At the same time, forests trap carbon and mitigate climate change, maintain water and soil health, and prevent desertification. The sustainable management of forests offers multiple benefits – with the right programs and policies, the sector can lead the way towards more sustainable, greener economies," he added.
The report, The State of the World's Forests 2012 (SOFO 2012), was presented at an event organized by FAO and its partners at the United Nations Conference on Sustainable Development (Rio+20) that took place in Rio de Janeiro, Brazil. Rio+20's is a high-level meeting which ran from 20-22 of June, and was expected to bring together over 100 heads of state and government, along with thousands of parliamentarians, mayors, UN officials, chief executive officers and civil society leaders, to shape new policies to promote prosperity, reduce poverty and advance social equity and environmental protection.
Both companies and countries have used the gathering, Rio+20 Summit, as a platform to create environmental pledges and veterans of the Summit's primary goal is to produce significant results. Although not all goals are achieved, it is still in the hands of the consumer to choose green options, by purchasing from companies with the goal in mind to produce quality product that is safe for you and good for the environment and will last a lifetime.
It can be overwhelming looking at what the bigger numbers of loss and challenges Earth has in store to renew and fix what big companies have already destroyed, but the consumer can start by making a green choice choosing products that stand for greener production. One example is Dapwood, a boutique manufacturing company located in Albuquerque, New Mexico. Dapwood designs and builds products out of American woods that are FSC certified solid hardwoods with no finish or have a simple flaxseed oil. There are thousands of companies that sell furniture with say that they are all natural, but have headboards or hidden parts that are veneered or have hidden finishes in their bedframes, but Dapwood is an authentic manufacturer that produces one hundred percent chemical free platform beds. These American Made beds are featured at The Futon Shop in their 11 stores as well as on line in their Natural Platform bedroom line with free shipping.
About The Futon Shop:
The Futon Shop has a strong commitment to our planet, our country and towards bringing the best organic and eco-friendly futon, sofa bed & organic furniture options for the health and comfort of their customers. Their mission is to produce the best eco-friendly/chemical-free Organic and Natural futons, organic mattresses, futon covers for sofa beds, futon frames, and platform bed frames that promote better healthy living and a good night's sleep for all. Since 1976, The Futon Shop has been the leader in American made premium natural mattresses.
Organically yours, The Futon Shop