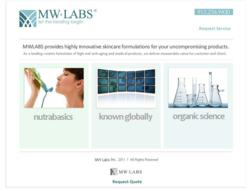 The addition of InstantGMP is a significant step to enhancing our cGMP compliance and supporting manufacture of exciting and innovative new OTC products.
Cary, NC (PRWEB) July 17, 2012
InstantGMP™ is beta testing Version 2.0 of their electronic batch record software that is designed to make GMP compliance easy. MW Labs is currently enhancing their facility and capabilities to accommodate additional manufacturing as they look to begin making new Over the Counter skin products that will alleviate pain. The partnership between InstantGMP™ and MW Labs will provide a platform to demonstrate how innovative thinking and electronic manufacturing can combine to improve health outcomes.
MW Labs has been formulating and producing private label professional skin care products for over 25 years.
The InstantGMP™ electronic batch record software has been in use since 2004. In the recent months, Version 2.0, a cloud-based system was released and is in active beta testing at several sites.
About MW Labs
As a professional skin care innovator, MW Labs is dedicated to bringing the best science and technology to products that not only make your skin look better, we also strive for palliative benefits. Our patented lotion, cream, gel and serum formulations can be customized to specific requirements, unique to your label - products that enhance your brand as well as your clients.
About InstantGMP™
InstantGMP™ is a web-based Part 11 compliant electronic batch record system that streamlines the entire process of GMP manufacturing of pharmaceutical products and dietary supplements. Its hard coded quality assurance procedures are built in to prevent errors and to maximize quality and to assure GMP compliance. The application comes with a complete set of manufacturing SOPs that can be easily assimilated into any existing quality system. This cloud application can be accessed remotely from any location. It simplifies documentation and approval procedures, reduces production times, improves quality and allows capacity to expand without adding additional staff.