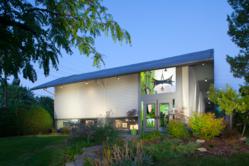 Denver, CO (PRWEB) July 11, 2012
On Sunday September 30, 2012, the Mizel Museum will open its doors free of charge along with over 1,400 other participating venues for the eighth annual Museum Day Live! This immensely successful program, in which the Mizel Museum will emulate the free admission policy of the Smithsonian Institution's Washington, D.C.-based facilities, encourages learning and the spread of knowledge nationwide.
Museum Day Live! fulfills Smithsonian Media's mission to make cultural education accessible to everyone. Last year's event drew over 350,000 museum-goers across the country, and this year's Museum Day Live! is expected to attract close to 400,000 participants.
Mizel Museum's permanent exhibit, 4,000 Year Road Trip: Gathering Sparks, is a dynamic journey through art, artifacts and digital media that narrates and celebrates Jewish history and culture. Visitors of all ages and backgrounds are encouraged to visit.
The Museum Day Live! Ticket will be available to download beginning in August at Smithsonian.com/museumday. Visitors who present the Museum Day Live! Ticket will gain free entrance for two at participating venues for one day only. One ticket is permitted per household, per email address. For more information about Museum Day Live! 2012 and a list of participating museums and cultural institutions, please visit Smithsonian.com/museumday.
About the Mizel Museum
The Mizel Museum is a portal to the contemporary Jewish experience. Its exhibits, events and educational programs inspire people of all ages and backgrounds to celebrate diversity. Fine art, film, literature, drama, music, and technology offer interactive experiences that promote community, understanding and multiculturalism. The Museum is located at 400 S. Kearney Street, Denver, where visitors can tour the new permanent exhibit, 4,000 Year Road Trip: Gathering Sparks. For more information, visit http://www.mizelmuseum.org or call 303-394-9993.
About Smithsonian Media
Smithsonian Media comprises of its flagship publication, Smithsonian magazine, as well as Air & Space, goSmithsonian, Smithsonian Media Digital Network, and the Smithsonian Channel. Smithsonian Media is a division of Smithsonian Enterprises, the revenue-generating business unit of the Smithsonian Institution. The Smithsonian Institution is the world's largest museum and research complex consisting of 19 museums and galleries, the National Zoological Park and nine research facilities. Approximately 30 million people from around the world visit the museums annually.