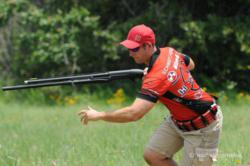 It was a grueling match. The weather made things more difficult, especially in the field courses.
Montezuma, IA (PRWEB) July 10, 2012
Brownells sponsored Team Noveske shooters Katie Harris, Jansen Jones, and Rob Romero are on a roll this year, and their recent performance at the Benelli Shotgun Championship in Park City, KY, was no different. Battling temperatures above 100 degrees and more than 130 shooters, the formidable threesome garnered top-three honors in their respective classes.
The three-day match, held June 29 – July, 1, 2012, consisted of 24 stages, for which competitors were challenged using birdshot, buckshot, and slugs. Based on IPSC rules, the competitors were divided into three classes: Standard, Standard-Manual (pump) and Open – depending on their specific shotgun and sighting system used.
Harris, competing in the Standard class, earned the high lady title. Romero claimed second-place overall in the Standard class, and Jones finished third in the Standard-Manual division.
"It was a grueling match," said Romero. "The weather made things more difficult, especially in the field courses."
Jones, who agreed with Romero, congratulated Harris on her second high-lady performance in the last month. "She was consistent from day to day, and didn't let anything faze her. Not the weather, other shooters, nothing. Rob and I are very proud of her."
About Team Noveske
Founded in 2009 by Jansen Jones and Rob Romero, The Noveske Shooting Team travels across the United States competing in professional level 3-Gun and Multi-Gun competitions.
About Brownells
Founded in 1939, Brownells is an Iowa-based, family-owned company that supplies more than 75,000 firearms parts, accessories, reloading components, gunsmithing tools, and ammunition to armorers, gunsmiths, and shooters worldwide. In addition to their industry leading 100% lifetime guarantee on EVERY product sold, their staff of veteran Gun Techs are available to assist customers with any need – free of charge. There are no minimum order sizes or fees. To place an order, or for more information, call 800-741-0015 or visit http://www.brownells.com.