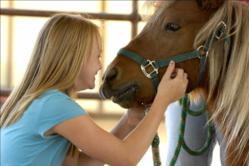 It's been clinically proven that using the equine experience as a tool for emotional growth, learning, and personal development is an effective way to assist in the recovery process
Horse Shoe, NC (PRWEB) July 10, 2012
Four Circles Recovery Center, an innovative addictions, substance abuse and co-occurring mental health disorders treatment program for young adults ages 18-28, has announced the addition of equine therapy to their adventure program. Now their young men and women's groups get to experience the many benefits that equine therapy has to offer, and Four Circles gets to provide another natural setting where clients have the opportunity to increase their self-confidence, reduce their fears, and bolster their self-esteem.
Jack Kline, MS, LPC, LCAS, CCS, Executive Director, explains, "It's been clinically proven that using the equine experience as a tool for emotional growth, learning, and personal development is an effective way to assist in the recovery process. Adding this piece to our program is another reinforcing factor that you can have fun in sobriety as well as learn additional coping strategies and abilities."
Equine therapy is quite straightforward. Horses are intuitive creatures that are extremely sensitive to their surroundings and are continually watching for predators or anything that may be amiss in or around their environment. Being so keenly alert, they are able to easily respond to what clients are feeling at any given moment while spending time in the same setting. A horse's behavior often acts as a reflection of the person that they are with, and they mirror the emotions and feelings that are around them. Clients quickly learn that interacting with the horse can be an image of who they are at that moment and help assist them in becoming more self-aware.
Once clients become aware of what it is like to work with horses that will listen to their commands, interact with them on a level that they may not have ever experienced, and receive their unconditional love and sensitivity, they are able to communicate more effectively, work better in a team environment, and increase their problem solving skills.
"The horses, like the wilderness, provide an opportunity for growth, empowerment, and connectedness. Through their work with horses, young adults learn more about themselves and how they relate to the world," explained Dr. Melanie Weis, PhD, LPC, LCAS-P, NCC, Program Director at Four Circles.
Session topics are most often contingent on the dynamics of the group and include work around self-esteem, boundaries, self-care, body/mind connection, awareness, overcoming fear, and self-worth. Research continues to show the benefits of equine therapy and the feedback that has been received from Four Circles' clients has been extremely positive.
"The value in learning certain skills, such as patience and assertiveness, that will help when out in the 'real world' is so much easier to practice on horses," explained a Four Circles' client. "The comfort of being around the horses really allows me to concentrate on the moment. It is great to have fun while learning so much about myself."
Four Circles Recovery Center is an innovative addictions, substance abuse and co-occurring mental health disorders treatment program for young adults ages 18 to 28 that combines a traditional counseling setting with a series of wilderness expeditions. Four Circles employs the most effective, cutting-edge clinical modalities with an underlying traditional 12-Step philosophy to create the foundation for sustained recovery.
Four Circles Recovery Center is a program of Aspen Education Group, the nation's leading provider of therapeutic education programs for struggling or underachieving young people. Aspen's services range from short-term intervention programs to residential treatment, and include a variety of therapeutic settings such as boarding schools, outdoor behavioral health programs and special needs summer camps, allowing professionals and families the opportunity to choose the best setting to meet a student's unique academic and emotional needs. Aspen Education Group is a member of CRC Health Group, the most comprehensive network of specialized behavioral care services in the nation. Since 1995, CRC Health has been achieving successful outcomes for individuals and families.
###