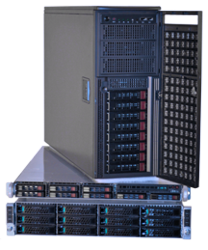 (PRWEB) July 10, 2012
Silicon Mechanics, Inc., a leading manufacturer of rackmount servers, storage, and high-performance computing clusters, announces that it will showcase its partnerships with Piston Cloud Computing, Inc., Bright Computing, and Saint Louis University at OSCON (Open Source Convention), to be held July 16-20, in Portland, Oregon. In addition to exhibiting select hardware, Silicon Mechanics is proud to host industry leader and Piston Cloud CEO Joshua McKenty, who will be at the Silicon Mechanics Booth #412 on July 17 for OpenStack Day.
Drop by the booth to see how Silicon Mechanics provides the building blocks for your own private or public cloud. On display will be a single Silicon Mechanics Private Cloud Node, powered by Piston Enterprise OpenStack. Come by and touch the cloud! Using the online configurator, the Silicon Mechanics Private Cloud Rack can be optimized to suit your needs.
Bright Computing and Silicon Mechanics provide an HPC cluster solution that is both fully-featured and simple to administer. Silicon Mechanics' booth will be featuring compute nodes of this HPC cluster solution, consisting of 4 Romley-based compute nodes in a 2U space. In addition, Silicon Mechanics is proud to host Joseph Moulton, Director Channel Sales for Bright Computing at our booth. Please drop by and say hello.
We will also be displaying one of the powerful GPU-enabled servers that make up the complete high-performance compute cluster won by Saint Louis University as the recipient of our first Research Cluster Grant. The cluster features up-to-the-minute technology from Bright Computing, AMD, NVIDIA, QLogic, Supermicro, Seagate, and Kingston Technologies. The flexible GPU cluster will provide valuable computing resources for many departments at SLU. Come by and talk about our second Research Cluster Grant!
An OSCON highlight will be Silicon Mechanics' hosting of Joshua McKenty, a founding technical architect of NASA's Nebula cloud computing platform and the CEO of Piston Cloud. Joshua will be at our booth on July 17th (OpenStack Day) from 5 pm to 6 pm, after delivering his presentation on OpenStack: The Future of Computing. He will be available to talk with customers and answer questions.
Joshua McKenty was the driving force behind NASA Nebula's release to the OpenStack project, a massively scalable open source cloud operating system backed by Rackspace, Dell, HP, Citrix, Cisco, and over 150 other leading organizations. Piston Cloud is sponsoring Tuesday night's OpenStack birthday party, and continues to play an instrumental role in the project's success.
# # #
About Silicon Mechanics
Silicon Mechanics, Inc. is a leading manufacturer of rackmount servers, storage, and high-performance computing clusters, with one of the industry's most comprehensive product offerings. Working collaboratively with customers to create best-fit solutions at competitive prices, we support our products with superior warranty offerings and a team of sales and service engineers dedicated to service and solutions excellence. Based in Bothell, WA, Silicon Mechanics is an Intel® Premier Provider and a Premier member of the AMD Fusion Partner Program.
Additional information about Silicon Mechanics may be found online at http://www.siliconmechanics.com, or by contacting info(at)siliconmechanics(dot)com.