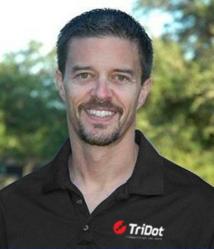 The TriDot System is a patents-pending system that has been in development for more than six years, serving hundreds of athletes, including several professional triathletes on the Tri4Him Elite Team sponsored by TriDot.
Dallas, TX (PRWEB) July 09, 2012
Top-level triathlon coaching is now available to the triathlon training community on a large scale, through the introduction of the TriDot Training System. Triathlon is the fastest growing sport in the United States, with more than one million adults now participating in the sport, according to recent statistics released by USA Triathlon. "Despite the explosive growth of this sport," says founder and head coach, Jeff Booher. "According to our research, fewer than 30% of triathletes benefit from the services of a triathlon coach. With triathletes frequently spending between five and ten thousand dollars on triathlon equipment and thousands of dollars a year on racing fees, TriDot believes that the relatively low percent of coached athletes is a function of a lack of supply of consistent and reliable coaching services. Services that don't primarily rely on random application of training theory and trial-and-error guesswork"
TriDot has launched new triathlon coaching services offering athletes affordable coaching plans with eight elite triathlon coaches currently on its staff. TriDot has developed a triathlon training platform and program design system that can serve thousands of athletes a month with a blend of top-quality training programs and dedicated, high-quality coaching at an affordable price. "When I started coaching triathlon," Booher explains, "I absolutely loved the interaction with the athletes and serving them as a coach and mentor. I found that I was able to have a tremendous positive impact on athletes, not just in their triathlon career, but in helping them relate triathlon to their larger goals, dreams, and life purpose. But as the results of the TriDot System spread and more and more athletes came to us, I found that I had less and less time to consult with my athletes because I was spending all of my time designing triathlon training programs. The benefits of the system were substantially better than anything else out there, and I didn't want to limit how many athletes could use it either due to price or my bandwidth."
After experiencing the classic dilemma that triathlon coaches face, Booher set out to develop a technological solution to solve this common triathlon coaching issue. The TriDot System is a patents-pending system that has been in development for more than six years, serving hundreds of athletes, including several professional triathletes on the Tri4Him Elite Team sponsored by TriDot. Based on his background as a software engineer, collegiate decathlete, Army Intelligence professional, and competitive age-group triathlete, Jeff Booher designed the system to make the benefits available to more aspiring triathletes than he could personally serve. Using an array of complex algorithms developed from data on literally thousands of training periods systematically designed, tracked, and completed by athletes fitting every profile imaginable, the TriDot System generates training programs specific to an athlete's training background, experience, age, race distance, body composition, overall goals, and much more. The technological backbone of the TriDot System eliminates the common need for coaches to either spend hours in front of a computer guessing how to write programs or using the one-size-fits-all approach. It allows them to deliver higher quality service and reclaim this time to devote to the interpersonal interaction with athletes.
The TriDot System not only saves coaches time and allows them to take on more athletes, it also delivers markedly better results for athletes. "We have found through our research and application of the TriDot System over the past six years that athletes are able to achieve their goals with significantly less (20 − 30%) training time than they used to spend attempting to reach those same goals. For athletes who want to take their training and racing to the next level, the TriDot System allows them to do it more efficiently and without subjecting them to unnecessary injury risk.
__________________________________________
ABOUT TRIDOT
The TriDot® System is a one-of-a-kind, patents-pending triathlon training and racing system developed based on extensive and ongoing primary research since 2004. The TriDot® System's Intelligent Design Process (IDP) is a data-driven process that produces optimized training programs built for each athlete that deliver maximum results per training hour invested (Result: more performance gains and/or less training time). Serving beginners to professionals, the TriDot® System takes the guesswork out of triathlon training and racing.
__________________________________________
This Press release was created and distributed on behalf of TriDot by Prism Communications Inc. Prism Communications is a full service internet marketing company that cuts through the myriad of internet marketing tactics and develops a coherent strategy for companies looking to grow their online presence. To learn more about Prism Communications, or to contact them for a free consultation for internet marketing solutions, email them at sam@prism-communications.com or call them at 917.319.2229.