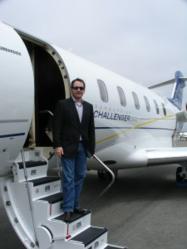 While hotels are trying to best each other with in-room iPads and other technical wizardry, what business travelers really want is excellent service, great food, and a comfortable bed.
New York, NY (PRWEB) July 10, 2012
ExpertFlyer.com®, the premier online air travel information tool, which now offers its award-winning Seat Alerts® feature free to all travelers, sat down with Frequent Business Traveler magazine's Editorial Director, Jonathan Spira, to gain a larger perspective on the travel industry. During his One-on-One session with ExpertFlyer, Mr. Spira shares results from the magazine's independent research confirming the amenities business travelers really want, and how green initiatives are being embraced by travelers, as well as many sectors of the travel service industry, to everyone's benefit.
As an online consumer travel publication, Frequent Business Traveler is responsible for monitoring all areas of the travel trade -- not just niche areas -- and reporting on wide-reaching trends, as well as the latest hot destinations, to its readers. ExpertFlyer wanted its One-on-One blog to take a broader look at the travel industry this month and Jonathan Spira was happy to share some of his insight with us.
"Frequent Business Traveler recently published its findings on travelers' 'Hotel Pet Peeves' and even the best hotels fall flat when it comes to providing quiet rooms where business travelers can work and sleep. While hotels are trying to best each other with in-room iPads and other technical wizardry, what business travelers really want is excellent service, great food, and a comfortable bed."
Spira describes his readership as members of a new iClass of business traveler who thrive on information and innovative ways to relax and disconnect from their daily business routines. "It's a group of people who value function and will pay more for things that will endure, as well as once-in-a-lifetime experiences that will stand the test of time," explains Spira.
"Business travelers are bombarded with information, which makes it difficult to decipher what is valuable to their travel style and what is simply noise," says Chris Lopinto, President and Co-Founder of ExpertFlyer. "Frequent Business Traveler analyzes much of this information and offers it to its readers in a way that is easy to digest and offers objective opinions about the true value of travel programs, technology, and industry trends that should be of interest to business travelers."
Frequent Business Traveler also looks at new and exciting innovations in green travel and shares those with its readers. Innovations might include test driving the BMW's experimental liquid-hydrogen powered 7-series sedan to sitting with airline executives who are looking at biofuel as a green alternative.
Spira also notes that airlines have fewer, but completely full flights, which is more energy efficient, including American Airline's plan to replace its MD-80 fleet with new 737-800s, an immediate reduction in energy usage by 30%.
In addition, the results of Frequent Business Traveler's annual GlobeRunner [Reader's Choice] Awards will be announced on July 18th on the publication's website. Almost 50,000 votes were cast.
To read the entire interview with Jonathan Spira, please visit ExpertFlyer's blog.
About Frequent Business Traveler
Frequent Business Traveler and Frequent Business Traveler Weekly bring must-read business travel tips and insights, news, reviews, and deals to globe-trotting executives in order to ensure seamless, productive, and successful travel.
About ExpertFlyer.com
Each month, ExpertFlyer's One-on-One blog goes face-to-face with the travel industry's leading decision makers to discuss and address topics relevant to many of today's business and frequent travelers.
ExpertFlyer.com was conceived and created by an eclectic team consisting of a veteran elite tier frequent flyer, an airline captain and corporate travel manager, and information technology professionals to deliver a 24/7 real time powerful air travel information service. The company provides its subscribers and corporate travel managers alike with a complete, concise and efficient way to access the ever-changing details of worldwide air travel information. For more information, please visit http://www.expertflyer.com.
# # #