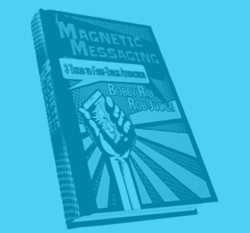 "Lots of guys go out on the weekends, meet women, and do well enough to get their numbers," explains Judge, "But when it comes to setting up a date, they drop the ball."
New York, NY (PRWEB) July 12, 2012
After close to a decade in the dating advice arena, two men's dating instructors claim the most common frustration of single men is "what to text a girl." In response to men's confusion, Bobby Rio and Rob Judge released a controversial video that explains exactly what to text a girl. (See the presentation by clicking HERE.)
"Lots of guys go out on the weekends, meet women, and do well enough to get their numbers," explains Judge, "But when it comes to setting up a date, they drop the ball."
Judge and Rio won recognition as the "phone game" experts after releasing their eBook, Magnetic Messaging. The duo asserts that the smart phone has revolutionized the courtship process.
"Back when my parents were dating, a book like Magnetic would have been unnecessary," laughs Judge, "But today, using your phone effectively is a necessary skill to ensure you don't let your soul mate slip through the cracks."
Fans of Judge and Rio claim the book is doing more than just securing dates. "The book completely changed the way I communicate with women," said Mark Handoff, an engineering student who purchased the book a month ago. "It's eye-opening stuff."
Claiming to answer the question, "What to text a girl?" Judge and Rio maintain there's no one perfect text, but instead a "sequence." Dubbed the "keylock sequence," men are advised to send 3 types of text to elicit a woman's interests. (For more information on the keylock sequence, click here.)
Magnetic Messaging and its follow-up materials all revolve around this 3-pronged approach to texting. "The keylock sequence is simply how a woman wants to be asked out over text. Period," Judge commented with confidence.
For more information on Judge and Rio, as well as their course on what to text a girl, click HERE.