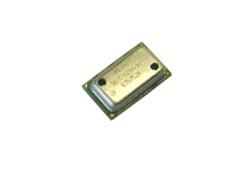 This device is ... 10 to 1300mbar range allowing development of personal navigation (PND), personal location devices (PLD), smart-phone inertial-navigation, in-building navigation and social alarm
(PRWEB) July 11, 2012
Measurement Specialties (NASDAQ: MEAS), has just released for production the MS5607 digital barometric pressure sensor featuring 24-bit resolution and the industry's lowest current consumption. This device also features a fast conversion rate of 0.6ms at 8-bit resolution to 8.3ms at 24-bit resolution. Current consumption of 0.9μA at one conversion per second (8-bit) to 12.5μA (24-bit) and resolution selection per conversion enables optimum application-specific power–performance trade-offs to be realized.
This device is optimized for ultra-high precision pressure measurements in the 10 to 1300mbar range allowing development of personal navigation (PND), personal location devices (PLD), smart-phone inertial-navigation, in-building navigation and social alarm applications down to 5cm.
"New generations of personal consumer devices require increasingly sophisticated sensor capabilities without compromising on device portability and autonomy" said Robert Whittaker, Business Development and Sales at Measurement Specialties Pressure Products facility in Bevaix, Switzerland. "The MS5607 incorporates over ten years of experience in the development and manufacture of high-performance MEMS pressure sensor modules and features zero external component count and small footprint (3 x 5mm) – an ideal choice for new or updated designs."
The MS5607 is part of Measurement Specialties' complete range of digital barometric pressure modules which offer industry-leading performance, size and measurement stability. These devices measure 3 x 5mm and are available in height profiles of 1.8mm and 1.0mm. The modules communicate via a four-wire SPI or two-wire I2C interface, and are delivered pre-calibrated in a surface-mount 8-pin RoHS-compliant package.
Measurement Specialties, Inc. designs and manufactures sensors and sensor-based systems. The company produces a wide variety of sensors and transducers to measure precise ranges of physical characteristics such as pressure, force, vibration, torque, position, temperature, humidity, fluid properties, mass air flow and photo optics. Measurement Specialties uses multiple advanced technologies – including piezo-resistive, electro-optic, electro-magnetic, variable reluctance, magneto resistive, digital encoders, thermistors, thermocouples, RTDs, capacitive, resonant beam, application specific integrated circuits (ASICs), micro-electromechanical systems (MEMS), piezoelectric polymers and strain gauges to engineer sensors that operate accurately and cost-effectively in customers' applications.
For more information about Measurement Specialties and our products, e-mail sensors(dot)help(at)meas-spec(dot)com or visit us at http://www.meas-spec.com.