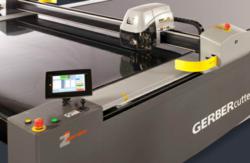 Los Angeles, CA (PRWEB) July 10, 2012
Thrive Home Furnishings, the leader in Midcentury style furniture with a modern flair, announced today that the company plans to expand operations with the purchase of the innovative GERBERCutter Z1 automated fabric cutter. The GERBERCutter Z1 optimizes cutting processes and increases yield and efficiency. Thrive Furnishings will be the first West Coast furniture manufacturer to use one of these computer-controlled, automated cutting solutions.
"Recognizing our growth and the needs of our customers, we reached out to the premiere manufacturer of automated cutting machines in the furniture industry. With the Z1, we will now cut in an hour what we generally cut in a day. Our gains are not only related to capacity, our repeatability and quality will be increased as well due to the cutters automation." Explains Josh Stellin, Director of Thrive Home Furnishings.
Not only will the addition of the Z1 decrease the time it takes to manufacture all of the products in Thrive's line of high end sofas, beds, chairs, and ottomans, but it offers environmental benefits as well. The Z1 is equipped with an intelligent variable vacuum regulator. It may sound complicated, but its results are not. With the increased technology the Z1 brings, power consumption is reduced and the workflow processes become more efficient. There is less fabric waste, less energy needed to cut the same amount of fabric, and system throughput can be analyzed more accurately. Because Thrive's upholstery options include over 60 different fabrics as well as leather, maximizing efficiency is important. Thrive Furnishings is committed to eco-friendly manufacturing. For years, Thrive has carefully monitored where their wood comes from, using wood that's certified by the Forest Stewardship Council, which establishes strict social, environmental and economic standards for managing and protecting the world's forests.
Thrive Furniture has brought the classic, contoured shape and impeccable craftsmanship of 1950s style furnishings to the modern home for customers all over the world. Now a division of Versa Products, Inc., Thrive Furniture has expanded their product line to include newly designed pieces like the striking Grant Leather sectional sofa and the Monroe chair. Furniture from Thrive ranges in price from surprisingly affordable like the Sullivan ottoman to custom pieces targeted to high-end clients. "There's something for everyone here," Stellin says. "At Thrive, we prove you don't have to spend a fortune to surround yourself with hip, stylish furniture that makes a statement about who you are. Streamlining our manufacturing processes will help us get the furniture our customers want into their homes more quickly."
It should be noted that the company offers free shipping on all of their pieces including the ultra-heavy ones like sofas and beds which, with other companies, adds hidden costs of up to hundreds of dollars. And they stand behind the craftsmanship and quality by accepting returns for one full year from the date of purchase and free shipping back to the factory if you're not 100% satisfied.
For more information about Thrive Furniture, or to browse through the company's new lines of furniture, visit http://www.thrivefurniture.com.