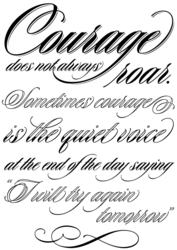 Los Angeles, CA (PRWEB) July 11, 2012
LA based type foundry Aerotype has released a unique new script tattoo font family called Keepsake™. Designed by Stephen Miggas, the five member type family can be combined and overlapped to provide a wide range of creative options.
Behind Keepsake's edgy exterior resides an edgy set of OpenType® font technology features including contextual characters and ligatures, discretionary characters and stylistic alternates, affording the typesetter creative flexibility and versatility. Each face includes three options for every capital letter and multiple lowercase options, including for example, special characters that automatically substitute-in at the ends of words. Other features include four swashy decorative elements and optional old-style figures accessible by supporting application's OpenType menu.
"Not only is Aerotype's Keepsake a tattoo-inspired display face — it's a tidy looking copperplate script in its own right." notes Grant Hutchinson of Typedia, "The five font flavours provide countless possibilities for layering and combining the engraved, shadow, drop, and filled variations."
The Keepsake Drop Shadow version can be used in conjunction with the other family members, and colored separately if desired. All five fonts support Latin, Eastern European and Baltic languages. As the name suggests, Keepsake strives to be a treasured member of any type collection.
"Keepsake has evolved considerably over the past few years as I tried to balance the formality of classic penmanship with the edgy look and feel of a script one might find in a tattoo studio." Miggas explains, "My intention, and hope is that designers find it appropriate for all kinds of script use not just limited to projects in the tattoo genre."
Keepsake can be purchased and downloaded from the Aerotype web site http://www.aerotype.com as a family or a la carte. There is also a type specimen PDF that details features, extra characters and other goodies.
About Aerotype
Based in Los Angeles, Aerotype has been publishing finely crafted display fonts since 1995. Information on new Aerotype releases and special font offers can be found on the company's Twitter and Facebook pages, twitter/aerotype and facebook.com/aerotype
Keepsake is a trademark of Aerotype Corporation. OpenType is either a registered trademark or trademark of Microsoft Corporation in the United States and/or other countries. All other trademarks are the property of their respective owners. Copyright © 2012 Aerotype Corporation. All Rights Reserved.