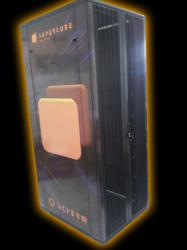 With Bright, we manage our cluster with minimal time investment, so we can focus our efforts on research.
San Jose, CA (PRWEB) July 11, 2012
Bright Computing announced today that scientists at the Technological Institute of Aeronautics (ITA) in Brazil selected Bright Cluster Manager® to reduce the amount of time, effort and resources required to manage their recently purchased HPC cluster. Bright provides a single, intuitive solution for provisioning, scheduling, monitoring and managing ITA's new cluster.
The new system at ITA supports their research to better understand astrophysical plasmas and turbulence in space. ITA's scientists are using this cluster to run complex numerical simulations of magnetized and non-magnetized fluid dynamics, applying a combination of Navier-Stokes and magneto hydrodynamics equations. ITA turned to Scherm Brasil to design and build their cluster, because of the firm's depth of HPC experience and reputation for quality. The Scherm team provided a system based on Supermicro technology, comprising 288 AMD Opteron 6100 processors. To get the most productivity from the cluster, Scherm recommend Bright.
With Bright Cluster Manager, scientists at ITA have significantly reduced the time required to manage their system. Previously, adding nodes required hours of effort to format servers, integrate the new hardware and troubleshoot problems, usually by writing customized code. With Bright, researchers properly configure, integrate and test new nodes in under a minute. Similarly, they save hours every time they need to reconfigure their cluster for a new job type, thanks to Bright's fast, image-based provisioning.
The ITA team enjoyed an unanticipated benefit: eliminating the need to add headcount.
"Based on our experience with Beowulf clusters, we were convinced that we'd need to hire a specialist to help with cluster management as we added more nodes to meet increasing compute demands, and to keep our system running," said Erico Rempel, associate professor and researcher at ITA. "But after experiencing Bright, we decided that was entirely unnecessary. Our scientists can themselves monitor node health with ease, and can reboot specific nodes, if necessary, with the click of a mouse. Critically, we manage our cluster with minimal time investment, so we can focus our efforts on conducting research."
Bright enables ITA's scientists to easily monitor CPU status and memory usage through an intuitive graphical user interface (GUI). Bright's GUI provides a single system view for managing all hardware and software aspects of the cluster— a feature which ITA researchers have come to rely upon.
"ITA's cluster is tasked with running incredibly complex numerical simulations," said Guilherme Friol, CIO at Scherm Brasil. "ITA scientists wanted an easy-to-use cluster management solution, with flexible features, a user friendly GUI and excellent online support. Bright Cluster Manager fit their needs perfectly."
About the Technological Institute of Aeronautics (ITA)
ITA is an institution of higher education and advanced research with emphasis in aerospace science and technology maintained by the Brazilian Federal Government with the support of the Brazilian Air Force. It is located in São José dos Campos, Brazil. http://www.ita.br/ingles/ingles.htm
About Scherm Brasil
Founded in 2002, Scherm Brasil is the leading supplier of high performance computing in Brazil. The company applies a unique combination of experience in engineering, with an approach based on open standards to significantly increase the return on investment for infrastructure for a wide range of customers. Global organizations use Scherm to solve complex computing challenges, meet the demands of product development, application integration and virtualization, reduce energy consumption and maintain competitiveness. http://www.scherm.com.br/
About Bright Computing
Bright Computing specializes in management software for clusters, grids and clouds, including compute, storage, Hadoop and database clusters. Bright's fundamental approach and intuitive interface makes cluster management easy, while providing powerful and complete management capabilities for increasing productivity. Bright Cluster Manager is the solution of choice for many research institutes, universities, and companies across the world, and manages several Top500 installations. Bright Computing has its headquarters in San Jose, California. http://www.brightcomputing.com.
Pictures and screenshots of Bright Cluster Manager
http://www.BrightComputing.com/Newsroom.php