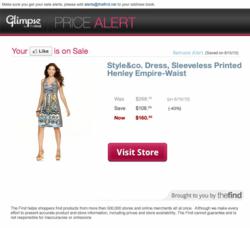 The potential for Facebook as a growth engine in eCommerce cannot be overstated
San Francisco, Calif. (PRWEB) July 10, 2012
Glimpse by TheFind, a new social shopping app for Facebook, today announced the addition of its latest feature, Universal Price Alerts, which sends automatic price alert emails to Glimpse users that apply to any product, on any website, that has a "Like" button. Now, by simply installing the Glimpse app on Facebook, people will receive emails alerting them to the sale of any product they have Liked — be it on BestBuy.com, Nordstrom.com, or any other retail site, when that product goes on sale or is otherwise discounted.
Facebook as a Growth Engine for eCommerce
According to TheFind, there are currently 5.6 million products across the web that have been Liked by at least one person, as compared to just two million at the end of last year. Presently, 70 percent of all eCommerce sites have Like buttons at the product level; meaning Glimpse's new Universal Price Alert feature represents a compelling new channel for any store that has already invested in putting Like buttons on their products.
TheFind believes that the new price alert feature delivers immediate value to both consumers and retailers alike, as well as creates unique opportunities for Facebook to deliver increased value to its partners and members.
"The potential for Facebook as a growth engine in eCommerce cannot be overstated," said Siva Kumar, CEO of TheFind, the company behind Glimpse. "Today, there are literally billions of dollars floating around in the affiliate marketing pool, with just about every penny being addressable via Facebook. What's been missing is a way to leverage the existing investments that brands and stores have made in the Like button, along with an easy way for Facebook to connect shoppers with the products, stores and brands they already love. Obviously, we believe Glimpse offers that solution."
With Universal Price Alerts, stores will automatically reach a very engaged audience — the people who have already identified and Liked their products. Consumers will be alerted anytime a product they Like goes on sale.
TheFind noted that Universal Price Alerts are not limited to just the fashion and design items that can be found in Glimpse. Rather, the alerts apply to any product on any site people have Liked. According to TheFind's Kumar, "The Like button is now a universal tool for bookmarking merchandise that people are interested in or considering, even if they're not in a position to buy it today."
About TheFind
TheFind's patented search, browse and discovery technology is expanding the eCommerce landscape through social, mobile and tablet commerce innovations. These include the Facebook timeline app Glimpse by TheFind, TheFind Mobile barcode scanning app for smartphones, the popular tablet app Catalogue by TheFind, along with the comprehensive shopping search engine, TheFind.com. Ranked number 12 on the 2010 Inc. 500 list of fastest growing private companies, TheFind was founded in 2005, venture funded by Bain Capital Ventures, Lightspeed Venture Partners and Redpoint Ventures and is a San Francisco and Silicon Valley-based company.
###