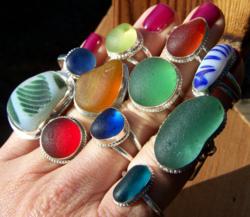 "I love enjoying the beautiful downtown area. It is always one of my best shows of the year."
Krista Hammond, Santa Cruz Sea Glass
Los Altos, California (PRWEB) July 10, 2012
Santa Cruz Sea Glass is set to show for their third year in a row at the Los Altos Art & Wine festival, marking its 33rd year in 2012. The highly-rated Arts & Wine Festival showcases the distinctive works of artists and craftspeople from over a dozen states.
Krista Hammond, owner of Santa Cruz Sea Glass is in fact a 1989 Los Altos High School graduate. "I love coming back to the area where I spent most of my youth. Seeing old friends and enjoying the beautiful downtown area. It is always one of my best shows of the year."
Besides showing at numerous art festivals throughout the year, Krista also created her own show, the Santa Cruz Sea Glass & Ocean Art Festival. In its 4th year, held the first week in November at the Cocoanut Grove on the Boardwalk in Santa Cruz. The festival features over 40 artists and was started by Krista as a way to celebrate art while raising awareness and donations for ocean conservation. Krista states, "The show has been such a success that I joined forces with Relish Inc. in Lake Erie to create the 1st annual Lake Erie Beach Glass & Coastal Arts festival to be held Memorial Day 2013!"
Many artists specially create new and unusual items just for the Festival. Like Kerry Manning of Cruise Hats who makes hand-sewn sun hats in stylish fabrics. Each one is reversible and it's like having 2 hats in one. Kerry sews every hat herself and she always creates a special new design for the Los Altos show.
Krista of Santa Cruz Sea Glass also creates special pieces just for the Los Altos festival. "I have a great clientele that loves the rare and unusual sea glass colors. We just finished a batch of 13 new rings for the show and each one is amazing!" Krista also loves Cruise hats and often wears one while attending a show. "They are beautifully made and help keep me from getting sun-burned, which is a real threat when you are an artist showing for over 8 hours a day outside."
The Festival also features select vintages by the glass from local wineries as well as a wide variety of foods including Thai, Chinese, Mexican, All American favorites like sausages, hot links and roasted corn, sweets of all kinds, and more.
Enjoy the day long free concerts on three stages, offering a variety of music and entertainment for all ages. The Festival is a great event for the whole family with a large selection of rides, activities and entertainment for children all weekend in the new, bigger Family FunZone!