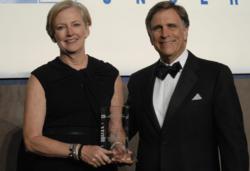 We salute DuPont and Ellen Kullman for their outstanding commitment and proven leadership in developing and fostering diversity and inclusion in its workplace and within its customer and supplier network.--Lawyers' Committee Exec. Dir. Barbara Arnwine
Washington, D.C. (PRWEB) July 09, 2012
The Lawyers' Committee for Civil Rights Under Law bestowed upon DuPont and its Chair & Chief Executive Officer Ellen Kullman its 2012 A. Leon Higginbotham Corporate Leadership Award for exemplary corporate leadership in advancing diversity in the workplace and fostering economic opportunity. The gala black-tie dinner, themed "Together, we can accomplish what no one can do alone," was held at the Grand Hyatt New York on June 28, 2012.
CNN Anchor and Correspondent Don Lemon served as emcee, encouraging attendees to support the critical work of the Lawyers' Committee. Emmy Award-winning Lemon's outstanding journalistic ability and commitment to civil rights and diversity issues are outstanding and valued tremendously.
DuPont is a market-driven science company with 70,000 employees working in more than 90 countries. Globally, DuPont celebrates diversity and inclusion through respecting each and every individual, valuing uniqueness, and treating all fairly. DuPont integrates its efforts into everyday business strategies by developing a focused approach to diversity and work life management, strong employee networks, global mentoring programs and diversity courses to increase awareness and sensitivity among individual employees and across teams.
"We are honored and privileged to be recognized by the Lawyers' Committee with the Higginbotham award," said DuPont Chair & CEO Ellen Kullman. "Treating people with respect has been a DuPont core value since our company's founding 210 years ago. Our legacy continues today as inclusion and diversity catalyze our world-class science and innovation to help address some of the world's most pressing challenges."
"We salute DuPont and Ellen Kullman for their outstanding commitment and proven leadership in developing and fostering diversity and inclusion in its workplace and within its customer and supplier network," said Lawyers' Committee Executive Director Barbara Arnwine. "Also, the DuPont legal department is renowned for excellence in leadership, initiatives and legal diversity."
"We are excited to confer this year's award upon DuPont and Mrs. Kullman, the first female CEO to lead DuPont in its 210-year history and the first woman to receive the Higginbotham Award. Coincidentally, this year also represents the first time in the Lawyers' Committee's history that two women currently serve as co-chairs of our board," Ms. Arnwine added.
DuPont has a long history of support for diversity, especially in education. The company encourages participation in diversity networks to foster dialogue and support among employees. There have been more than 100 networks representing gender, ethnicity, disability and sexual orientation, including a Black Employees Network and a Women's Network.
During her dinner remarks, Mrs. Kullman highlighted DuPont's legacy of outreach in local communities. She said, "Thirty-five years ago, we established a diverse supplier program which displayed our commitment to equal opportunity and helped to sustain economic development for local, diverse firms, many of these being many small firms. In 2011, DuPont spent $568 million on supplies from U.S. minority and women-owned businesses." She also noted the importance of educational and career opportunities in science and engineering and DuPont's initiatives STEM (Science, Technology, Engineering and Mathematics) areas.
DuPont's global diversity awards and recognitions include:
*Diversity Employers named DuPont on the top 100 list for 2012.
*Corporate Responsibility Magazine recognized DuPont as the best Corporate Citizen in the Materials Sector in 2011.
*Working Mother Magazine recognized DuPont as one of the Best Places To Work for the 23rd time.
*DuPont was recognized by the Human Rights Campaign as one of the best places to work for lesbian, gay, bisexual and transgender (LGBT) employees.
*For the fifth consecutive year, DuPont was selected as one of the Top 50 companies for executive women by the National Association for Female Executives (NAFE).
The prestigious Higginbotham Corporate Leadership Award, named in honor of Judge A. Leon Higginbotham Jr., a pioneering civil rights advocate, author and federal appeals court judge, was established in 2000. Past honorees include: McDonald's Aetna Inc.; BellSouth Corporation; Citigroup Inc.; Colgate-Palmolive Company; Fannie Mae; General Electric Company; Microsoft Corporation; The New York Times Company; PepsiCo, Inc.; Qualcomm, Inc.; Time Warner, Inc. and United Parcel Service.
About the Lawyers' Committee
The Lawyers' Committee for Civil Rights Under Law (LCCRUL), a nonpartisan, nonprofit organization, was formed in 1963 at the request of President John F. Kennedy to involve the private bar in providing legal services to address racial discrimination. The principal mission of the Lawyers' Committee is to secure, through the rule of law, equal justice under law, particularly in the areas of fair housing and fair lending, community development, employment discrimination, voting, education and environmental justice. For more information about the LCCRUL, visit http://www.lawyerscommittee.org.
###