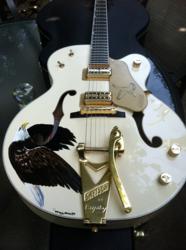 "We are honored to have Wyland create an original work for Sweet Relief. His significance and talent as an artist is matched by his sincere effort to assist worthy causes around the world", Rob Max, Executive Director
(PRWEB) July 18, 2012
On July 10, 2012, Sweet Relief began a series of online auctions featuring Fender and Gretsch premium guitars signed by many of the world's greatest guitarists. The first round of guitars on the block includes a John Mayer Signature Stratocaster, a 60th Anniversary Telecaster signed by Tom Petty, a Gretsch Country Gentleman signed by Lou Reed, A Fender Sting Signature Series Precision Bass signed by the artist, and an incredible Gretsch White Falcon with original artwork painted by the extraordinary marine life artist, Wyland. This first round of guitars will be available on Charitybuzz from July 10-26, 2012.
"We are so grateful to Fender and all of the amazing artists who have contributed to our auction this year," said Aric Steinberg, Director of Development at Sweet Relief. "It's gratifying to have the participation of so many legendary guitar players who support our mission here at Sweet Relief."
The auction will raise funds for the Musicians Cancer Fund @SweetRelief, which provides financial assistance to professional musicians fighting cancer.
The auction will also feature concert tickets with the opportunity to meet the artists; some of the artists featured are: Jason Aldean, Josh Turner, Dierks Bentley, Big Time Rush, Little Big Town, Cake, The Killers, Brad Paisley, Slipknot, Rascal Flatts, YES and Duran Duran.
Click HERE to see all items available
Sweet Relief plans to auction guitars signed by Neil Young, Stephen Stills, Buddy Guy, Andy Summers and Richie Sambora later this summer.