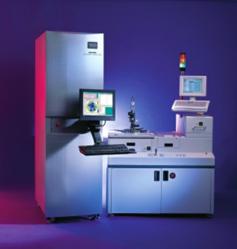 Santa Clara, CA (PRWEB) July 10, 2012
Nanounity announces the signing of a sales and marketing agreement with Mountain Scientifics Inc. (MSI) whereby Nanounity will promote the MSI QSW-Gen3 Quasi-Static Wafer tester product and associated accessories such as a patented magnet & probe card arrangement with In-Plane and Perpendicular Fields for the testing and characterization of STT-RAM devices and HDD recording heads.
"The requirement for early testing and characterization of STT-RAM devices and HDD recording heads is driven due in large part by the consumers demand for reliable storage systems," stated Ben Cendana, Co-founder & Vice President of Nanounity's STT-RAM & HDD Business Unit. "In order to meet this demand, our STT-RAM and HDD customers have invested in advanced magnetic device development and expect prompt device performance feedback at the wafer level. The QSW-Gen3, initially released in 1999, is the first commercially available system and is the only tester in the market that is qualified in both STT-RAM and HDD production. The QSW-Gen3 has gone through generations of advanced product design improvements to help our customers accelerate their development and bridge the transition to high-volume production. The large QSW install base is a testament to MSI industry leadership and we at Nanounity are excited to add the QSW-Gen3 into our magnetics product portfolio."
About Nanounity
Nanounity is a sales and distribution company, specializing in nanoscale imaging and analysis instrumentation, servicing and supporting research and engineering at universities, government laboratories, and industrial companies. Product offerings include Atomic Force Microscopes, Scanning Electron Microscopes, Stylus and Optical Surface Profilometers. More information about the company can be found at http://www.nanounity.com.