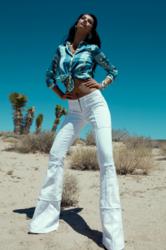 Sonas San Francisco spreads of message of love, freedom, happiness and self-empowerment to the world! ~ After all, Sonas means Happiness in Gaelic.
San Francisco, CA (PRWEB) July 11, 2012
Fusing innovative designs with a passion for animal rights, Sonas Denim is raising the standard of fashion with its sexy, free-spirited, cruelty-free patchwork jeans. Made from 50 individual patches of high-quality locally sourced fabric, Sonas Denim is behind some of the sexiest jeans on the market today. Not only does the San Francisco-based brand pride itself on its universally flattering prefect fit, Irish born founder Gerry Kelly said he intends to be a leader in the vegan-fashion movement.
"We are determined to show by example that it is possible to be a successful company with a conscience and the strength to better the world we live in," says Gerry Kelly. "One of the ways Sonas Denim betters the world is by donating 10% of net profits to animal welfare groups."
As dedicated animal lovers, Sonas Denim also pledges never to use any animal products in its collection. "We see no reason to use animal products in the name of fashion," said Kelly and his partner Animal Rights Attorney Christine Garcia. "It's about looking good isn't it? Sonas Denim proves you don't need the skin, feathers or fur of an animal to accomplish that." Although the company currently focuses on its signature piece patched jeans, there are already plans to create a much larger animal-friendly collection in the near future. Sonas Denim hopes that more of its colleagues in the fashion industry will make the leap from animal products.
Lastly, Sonas Denim is reducing its carbon footprint as much as possible by recycling all cuttings and scraps into accessories. "Nothing from the Sonas Denim sewing rooms moves on to landfill. We do all our production locally here in California to decrease our use of fossil fuels and gas emissions," said Kelly.
It is no wonder that Sonas Denim customers are typically young at heart, free spirited, fashion forward, conscious, confident and independent. Be a part of a revolution now by checking out Sonas Denim on Kickerstarter.com. Sonas denim can be found in Bettina Duncan in Fred Segal Santa Monica and Wild Feather on Haight Street in San Francisco and online at http://www.sonasdenim.com.
http://www.sonasdenim.com for more information. You can follow them on Facebook at Sonas Denim of San Francisco, on Twitter @SonasDenim and on BlogSpot.
####