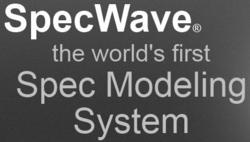 SpecWave helps create dynamic specifications across all phases of the asset lifecycle.
Philadelphia, Pa. (PRWEB) July 10, 2012
The Engineering Essentials Company, LLC (TEEC), a Philadelphia-based startup, is developing a specification modeling system that promises to advance information modeling and mobility by tightly integrating specifications with design models (CAD/BIM). Exton, Pa.-based Bentley Systems, Incorporated highlighted TEEC's innovative SpecWave® technology during the recent Be Together: The Bentley User Conference in Philadelphia.
Bentley Systems Vice President Santanu Das said, "SpecWave helps create dynamic specifications across all phases of the asset lifecycle, spanning design, procurement, verification, documentation, inspection, installation, and even operations." He demonstrated how SpecWave can leverage data from Bentley's AECOsim Building Designer (a single, integrated application that includes capabilities for architectural, structural, mechanical, and electrical systems design, as well as for construction documentation) using classification codes to generate specifications, including warranties, material types, and other data. These specifications can then be integrated with and embedded into design models for purposes such as reference, design review, transmittals, handover, and more. "This enables project teams to consider contractual requirements earlier in the process, improving on-budget performance and reducing surprises and changes later on."
Bentley Systems CEO Greg Bentley, Senior Vice President Bhupinder Singh, and Vice President Harry Vitelli also cited TEEC's advancements in information modeling and mobility. Vitelli demonstrated tablet-based field inspection using TEEC-generated specifications linked with BIM data for a hospital designed using Bentley's AECOsim Building Designer.
TEEC further showcased its SpecWave technology in the Be Together LIVE Zone exhibit and demonstration area. If you missed the demonstration of these enhancements, please visit TEEC's SpecWave Discovery Session Registration page to schedule a webinar with a TEEC executive.
For highlights of SpecWave references at Be Together: The Bentley User Conference, click the following link: http://www.youtube.com/watch?v=1gNHs72-6t0
About SpecWave
SpecWave® is the world's first spec modeling and spec-driven processes system. SpecWave transforms codes, standards, and engineering specifications into structured "models" that improve maintenance, approval cycles, publishing, and connecting these all-important documents to other systems and workflows such as CAD, BIM, procurement, and quality assurance.
SpecWave is both a powerful and a general spec modeling system – it is not specific to any particular market or industry. SpecWave has been shown to be applicable for architecture and construction, oil and gas, power, chemical, water/wastewater, and various other engineering disciplines.
About The Engineering Essentials Company, LLC
The Engineering Essentials Company, LLC (TEEC) supplies commercial off-the-shelf software and customized solutions for clients to help manage codes, standards, and engineering specifications. Clients can develop, edit, and maintain documents while enforcing corporate styles and formats. Additional information about TEEC is available at http://www.teecspecs.com.
About Bentley Systems, Incorporated
Bentley is the global leader dedicated to providing architects, engineers, geospatial professionals, constructors, and owner-operators with comprehensive software solutions for sustaining infrastructure. Bentley's mission is to empower its users to leverage information modeling through integrated projects for high-performing intelligent infrastructure. Its solutions encompass the MicroStation platform for infrastructure design and modeling, the ProjectWise platform for infrastructure project team collaboration and work sharing, and the AssetWise platform for infrastructure asset operations – all supporting a broad portfolio of interoperable applications and complemented by worldwide professional services. Founded in 1984, Bentley has grown to nearly 3,000 colleagues in more than 45 countries and over $500 million in annual revenues. Since 2003, the company has invested more than $1 billion in research, development, and acquisitions. Additional information about Bentley is available at http://www.bentley.com.
Bentley, the "B" Bentley logo, Be, ProjectWise, MicroStation, and AECOsim are either registered or unregistered trademarks or service marks of Bentley Systems, Incorporated or one of its direct or indirect wholly owned subsidiaries. SpecWave is a registered trademark of The Engineering Essentials Company, LLC. Other brands and product names are trademarks of their respective owners.