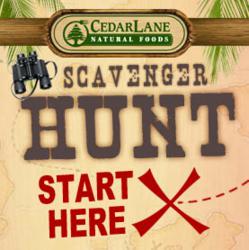 (PRWEB) July 10, 2012
Ready, aim, hunt! Cedarlane® Natural Foods announces an online "Hunt & Gather Scavenger Hunt" in which everyone who participates is a winner and one lucky hunter/gatherer will win a GRAND PRIZE: 15 Cedarlane meals (including 2 new CedarLEAN meals) and 2 Kindle Fires (one for the winner to keep, one to give to a friend)! Everyone who completes the hunt by finding 10 pop-up clues gets an instant coupon worth $1 off any Cedarlane or CedarLEAN product.
Cedarlane's "Hunt & Gather Scavenger Hunt" works like this: Through July 31, 10 pop-up clues are hidden on the Cedarlane website (those who wish to play on our social media may go to our Facebook, Twitter and Pinterest pages). The hunt begins on Cedarlane's home page and guides the hunter/gatherer through the website and/or social media sites to find clues.
After all of the clues are found and followed, hunters simply register their name and email, print out their instant-win coupon, and they are automatically entered to win the grand prize. Participants must be 18 years of age or older and only one entry per person is allowed. Cedarlane will randomly choose a grand prize winner from all who have finished the hunt and entered a name and email address.
For more information and official contest rules, visit http://www.cedarlanefoods.com.
For interviews with Cedarlane Natural Foods executives, please call the contacts listed at the bottom of this press release.
About Cedarlane® Natural Foods, Inc.
Founded in 1981 by Robert Atallah, Cedarlane® Natural Foods, Inc. is a leading supplier of natural and organic frozen and fresh foods. Cedarlane serves up a wide variety of award-winning natural, vegetarian, organic, low-fat, high-protein frozen food options from breakfast to dinner, appetizers to entrées. Many Cedarlane frozen foods carry the Quality Assurance International (QAI) organic certification. In March 2012, Cedarlane's new egg white omelettes were featured on The Today Show's "Eat Smart Today" segment with Al Roker and featuring Lisa Lillien, author of Hungry Girl Supermarket Survival. Cedarlane offers a variety of vegetarian frozen foods, chicken entrées and burritos, egg white omelettes and breakfast burritos.
About Founder & President Robert Atallah
Since 1981, Robert Atallah has grown Cedarlane® Natural Foods, Inc. from a one-man business to a corporation with more than 500 employees, offering award-winning natural and organic frozen foods and fresh foods. A food pioneer in multiple respects and a prominent leader in the food category, Mr. Atallah was the first to introduce all-natural and organic products to the frozen foods sector.
MEDIA CONTACTS:
Diego Romero
McFadden/Gavender
O: (520) 882-6262
M: (520) 401-1693
diego(at)mcfaddengavender(dot)com
Karen Gavender
McFadden/Gavender
O: (520) 882-6262
M: (520) 603-4200
karen(at)mcfaddengavender(dot)com
Website:
http://www.CedarlaneFoods.com