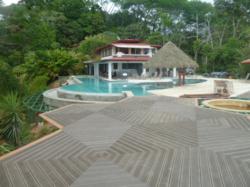 Now the ultra-durable deck boards are made of 60% recycled bamboo fiber and 40% recycled HDPE plastics.
San Diego, CA (PRWEB) July 11, 2012
The market's most eco-friendly deck has just grown greener. Cali Bamboo, a leading manufacturer of green building materials made primarily from bamboo, now provides an even more environmentally-sound composite decking material. BamDeck™ Composite Bamboo Decking has always been made of 100% recycled materials. Now the ultra-durable deck boards are made of 60% recycled bamboo fiber and 40% recycled HDPE plastics. (High density polyethylene plastic products are labelled with the number "2" and include bottles, laundry detergent containers, plastic bags and water pipes to name a few.)
As the only deck on the market with this unique composition, BamDeck™ shoots far above the competition. Tests performed by a licensed third party -- in accordance with the American Society for Testing and Materials (ASTM) regulations and specifications -- determined BamDeck™ Composite to be more than twice as hard and four times stronger than other decking products. Tests show the product absorbs one tenth as much water and scores lower on the flame and smoke tests. Cali Bamboo's decking is also slip resistant and compliant with the Americans with Disabilities Act.
Beyond its incredible strength, BamDeck™ Composite Bamboo Decking out-performs traditional decks in other ways.
BamDeck™ Compared to Traditional Wood Decks
Most timber decks continue to be made out of redwood, cedar or Ipé -- woods chosen for their strength and relative resistance to insects and rot. However, these trees take decades to reach maturity and do not grow back after being chopped down. Redwood decks in particular, are often made using old-growth timber which have a 500 to 700 year lifespan. "Old-growth" refers to the forests that are considered ancient, and tend to promote the most biodiversity because of their unique filtration of sunlight. Many redwood lumber companies prefer using this old-growth wood because it is sturdier than the younger trees and can be given a longer warranty. Today, a mere 4% of these original old-growth giants are still standing as a result of a relentless demand for lumber. Bamboo, on the other hand, can be harvested again and again about every five years without any damage to the plant or surrounding environment. The recycled bamboo fiber used to create BamDeck™ Composite is derived from the processing of other Cali Bamboo building products.
BamDeck™ Compared to Other Composite Decks
While other composite decks also incorporate recycled plastics, BamDeck™ is the only material using bamboo fiber instead of wood. This means the composite bears all the unique benefits of bamboo -- a material much more dense than wood and naturally termite resistant. In addition to being over twice as hard and four times stronger than the leading composite competition, BamDeck™ is more slip resistant when wet, LEED qualified and priced competitively to other composite decking options. Two different surface textures (ridged or smooth) allow for a variety of installation styles.
BamDeck™ is available for purchase nationwide and comes with a 10-year commercial and 25-year residential warranty. The decking is offered in four colors: Caramel, Coffee, Slate, and the newest color, Natural. For an in-depth tutorial on how to build a deck using BamDeck™ Composite watch the decking installation video.
About Cali Bamboo, LLC
Based in San Diego, Cali Bamboo manufactures green building materials made primarily of bamboo -- one of the world's most durable, sustainable and renewable materials. Founded in 2004, the company has become a model of how individuals, businesses and communities can implement modern design while maintaining structural strength and environmental integrity. Cali Bamboo services residential and commercial building projects across North America with a wide range of products including bamboo flooring, fencing, composite decking, plywood, poles, paneling and more. For more information visit http://www.CaliBamboo.com.